Top Shelf dives into digital comics: Two apps, books on every platform, and one incredible sale!
November 14, 2011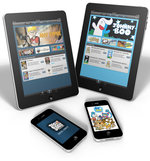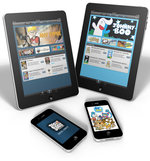 The Top Shelf apps in action
--TOP SHELF ON COMIXOLOGY--
Comixology, the developer of the official Top Shelf apps, is one of the most popular vendors of online comics. Once purchased, a Comixology book is readable in any web browser, or in apps for iOS and Android devices. Comixology software includes a "Guided View" mode to intuitively move from panel to panel. Currently they offer about two dozen Top Shelf graphic novels here.
--TOP SHELF ON GRAPHICLY & NOOK--
Today also marks the launch of nearly two dozen Top Shelf books on Graphicly, an innovative digital comics service that allows readers to purchase digital comics, embed & share them across the web, and discuss them with friends. For more information, visit Graphicly's Top Shelf hub.
Additonally, all of Top Shelf's Graphicly titles will be available for Barnes & Noble Nook devices as well, starting this week.
--TOP SHELF ON COMICS+ BY iVerse--
Comics+ by iVerse, Top Shelf's longest-running partner for digital comics, is available for iPad, iPhone, and iPod Touch. Currently Comics+ offers a massive library of over 70 Top Shelf graphic novels! Visit them here.
--TOP SHELF ON APPLE AND GOOGLE--
Apple's iBookstore is available through iTunes, or the iBooks app on your Apple device. It contains dozens of Top Shelf graphic novels, with more coming every week! You can see them here.
Google Books currently offers by far the largest number of Top Shelf graphic novels: over 100! What's more, they can be read on any computer, or any iOS or Android device. For more information, visit them here.