EISNERS 2009: SWALLOW ME WHOLE IS THE YEAR'S BEST GRAPHIC NOVEL!
July 25, 2009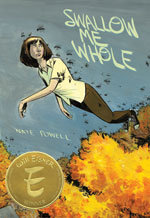 The Eisner Award ceremony came to a thrilling conclusion for Powell and his parents, who had flown in for Arkansas for the occasion and squealed with joy as their son took home top prize in the program commonly called "the Academy Awards of comics."
Powell's acceptance speech included thank-yous to his publishers, family and friends, and concluded "this goes out to everyone working to live their lives with dignity and sovereignty."
The next morning, Top Shelf's Comic-Con booth quickly sold out of all copies of Swallow Me Whole on hand. The book remains available in comic shops and bookstores nationwide as well as online.
This Eisner win continues a year of tremendous accolades for Powell and Swallow Me Whole, including a nomination for the LA Times Book Prize, which marked the first occasion since 1992's Maus that a graphic novel was considered for that prize. Other honors for Swallow Me Whole include a nomination for ALA's Great Graphic Novels for Teens list and indie cartooning's Ignatz Award for the best book to debut at the 2008 Small Press Expo.
Powell was nominated in three Eisner categories: Best Lettering, Best Writer/Artist, and Best New Graphic Novel. Top Shelf's previous winner of the Best New Graphic Novel award was Craig Thompson's memoir Blankets, in 2004.
For more details on Nate Powell, visit his web site at http://seemybrotherdance.org, or the Nate Powell section of the Top Shelf site at http://www.topshelfcomix.com/creators.php?artist=261.
Retailers may order Swallow Me Whole using Diamond order code JUL08 4290, or ISBN 978-1-60309-033-9.