Owly Animated Short to Debut at Comic-Con!
July 9, 2009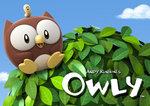 "I'm absolutely overjoyed to be working with the entire Sprite team. Over the past months, we've worked very closely to make sure Owly was faithfully translated to 3D. Every little detail was important to them, and the end result blows me away! They've created an animation that captures the pure essence of Owly in ways I never thought possible. It's amazing to see Owly and Wormy come to life like this. The level of artistry at Sprite is incredible." said creator Andy Runton.



"I am very passionate about the world of 'Owly' and its pure, honest, and adorable star. It is such a blessing to be able to bring Owly to new audiences who have not yet been touched by these wonderful stories," said director Moto Sakakibara.



Fans can visit the Top Shelf Productions booth (#1721) during the convention to see the short and to speak with members of the Sprite and Top Shelf teams, as well as meet Andy Runton, who will be there signing graphic novels, doing sketches, and talking to fans from around the world.



Owly's foray into animation comes at a time of big changes for the little "bird of play." Following the re-release of all five Owly trade paperbacks with newly painted covers; a new line of T-shirts; a new supply of plushies; a brand new American Library Association poster and bookmark celebrating Owly's support for libraries nationwide; the creation of an extensive collection of lesson plans for the use of Owly in classrooms; the release of all five Owly trade paperbacks on Amazon's Kindle, and the announcement that Top Shelf and Andy Runton have entered into an agreement with Simon & Schuster to publish two Owly picture books, starting with Owly & Wormy in Friends All Aflutter in 2011, Owly is on the move.



§§



Sprite Animation Studios is a Los Angeles-based boutique CGI animation house internationally known for its unique, funky style, and creativity. Sprite's high-quality work has been featured in theatrical films, television series, and festival venues such as Annecy, the SIGGRAPH Electronic Theater, Ottawa, and Pictoplasma.