eleven days later,
April 17, 2006
Back at the ranch, life is back to sort of normal. Deadlines. Sick kid. More deadlines. Etc.
To recap the last couple weeks, i'll try and make it short:
• Emerald City Con. Seattle. Pretty good day one, not so good day two. I still love the show, and will continue to attend. Shows promise.
•Â Three day break.
•Â APE (Alternative Press Expo). San Francisco. ROCKED! Best APE ever, easily. Good to see The City back on its feet again.
• Co-pilot for both trips, Bwana Spoons chokes on water and pukes in my car, when we're a mere two hours from home, at the end of the long-ass roadtrip.
• Adjustment from chiropractor, Dr. Jay. Ahhhh.....
•Â Lost Girls.
I've only had a chance to read a couple items that i scored on the road, with many MANY more still unread. Kazmir Strzepek's The Basilisk, a fabulous fantasy mini-comic with a nifty screenprinted cover and thread stitching, is a hoot. Kaz's work in generally is really strong stuff. In fact, his super tiny mini-comic The Mourning Star, is the best comic no one's read in the last two years. Just fabulous sci-fi fantasy weirdness, with great characters an a fun compelling story.
You can find samples of his work here.
(Note: The Basilisk is a short strip that was originally drawn for Jeffry Brown's now-defunct Elf World.)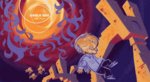 Also, Scott Morse generously (no surprise there) gave me a copy of his stunning new board book, Noble Boy, a biography of animation legend Maurice Noble, told in a similar children's book manner as the Kurosawa parts of his Top Shelf book, Barefoot Serpent. This is a truly deluxe package. Kudos to Scott and co-publisher Chris Pitzer over at AdHouse Books. I'm pretty sure this is Scott's first release for his newly formed company Red Window.
(Here's hoping that one day we'll see Scott dive into his "next" Top Shelf book, Lyrical Whales.)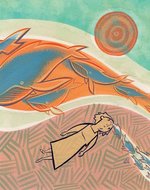 Oh, and i also picked up and read the Joss Whedon/John Cassaday 12-issue masterpiece run on Astonishing X-Men. Holy god what a fanboy's dream this book is. It's got everything: the return of Colossus; Kitty Pride; the Fastball Special; the Danger Room; the Danger Room gone all Hal on us. I'm actually only a recent convert to Whedon, getting the bug first (or actually, last) with his most recent film, Serenity. This ass-kicking film led me to the abandoned tv show Firefly, which in turn led to Buffy, the Vampire Slayer, which i now have even my wife addicted to as well. (We're into Season 5.) I saw a t-shirt at WonderCon this year that pretty much sums up how amazing a visionary this guy really is. It read, "Joss Whedon is My Master Now." No truer words can be spoken, as the once mighty George Lucas falls from grace with his absolutely abysmal new Star Wars travesties.
But the beauty of Whedon's vision could only have been realized by the jaw-dropping panoramic artistry of artist John Cassaday and colorist Laura Martin. This powerhouse duo could be working on the lamest book ever …Â say, Power Pack or something … and i'd pay for the opportunity to see it. I'm out of superlatives. Trust me, this is great stuff for any X-Men junky (different yet on par with the mind-bending Grant Morrison run), super-hero fan, or acolyte of the new "widescreen" school of comics.
I can't wait to see their next run.