top shelf does new york, and new orleans... sort of
February 25, 2006
Well, not me, but Staros is in NYC right now. As soon as i hear back from him i'll post a brief report. I see mention of this New York show on the newsites already, with lots of the "buzz" announcements that Marvel & DC are fond of doing at established big shows. You know, "This guy goes exclusive...," and "The fifteenth relaunch of that [franchise super-hero] debuts by such & such creative team." Clearly it seems they're hoping to make their home turf work to this advantage as well. While i certainly value using conventions for their publicity value, i'd like to see the Big Two (and the larger mid-size companies) do something a little more creative at these shows. Follow the European vibe and create exhibits which celebrate what we have, in the moment. Ah well... it's late, and i'm rambling nonsense. Must... finish.. blog.
At any rate, tonight was also fun me too, as i got out of the house and met my sister Nicky at Biddy's Irish pub for happy hour, and enjoyed some tasty music by local legends (in the hillybilly/folk/roots scene), Billy Kennedy and Lyne Conover. Haven't seen these folks for a long spell, and it sure was nice to do a little dancin'. These cats can really get down.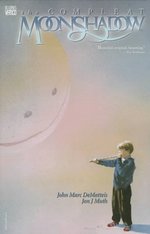 Then it was off to Dark Horse editor Philip Simon's pad (along with his girly Kate), for a smallish housewarming party. One of my favorite things about visiting friends in comics is checking out their bookshelves, anticipating the chance of finding some beautiful treasure i've never seen. Tonight was no exception... the first thing i laid my eyes upon was a fabulous 10-year old hardcover edition (in b&w) of Ted McKeever's Metropol. I never even knew this existed, and didn't catch who published it. He also had a luscious hardcover edition of DeMatteis & Muth's Moonshadow, which … based on the stellar production …Â had to be an older Graphitti Designs edition.
(* Side note, right next to that was an older softcover edition of Frank Miller's Ronin. I Freaking LOVED that book when it came out [and still do, of course], but it got me wondering if DC, or anyone else ever did a hardcover version of that. Anybody ever heard of this?)
Anyway, present at the shindig were a few folks i know, including Mark, the ex-proprietor of the old Dr. Tongue's toy store; Shannon Stewart, current proprietor of the new toy store Missing Link (over on Belmont, across from the old dairy); Craig Thompson and his new gal Julie; and Andy, owner of the portland comic shop Cosmic Monkey.
Philip is from New Orleans, and in honor of his bruised & battered hometown, the hoedown was a full-on cajun affair. He made a homemade gumbo that kicked my ass!! I had already eaten dinner, but it was all i could do to not eat more than the two bowls i harveled down.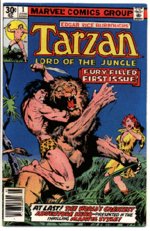 Philip is one cool cucumber, and was recently promoted at Dark Horse. Well deserved, i might add. He's been working on the Joe Kubert Tarzan archival books as of late, and for some reason had a spare copy (which he graciously gave to me) of a French edition, oversized hardcover of the first eight issues of Tarzan, John Buscema drew for Marvel, back in the early 80s. I wouldn't say it was his most enthusiastically drawn comics overall, but the first two issues, which he inked himself are absolutely inspired …Â especially in b&w. Really gorgeous material, rooted in the Milt Canniff / Hugo Pratt school of expressive realism. I did a quick search and found a website that had a couple preliminary sketches John did on this run. Buscema is vastly underrated, i believe. Perhaps he gets flack for How to Draw Comics the Marvel Way. Myself, i love this book.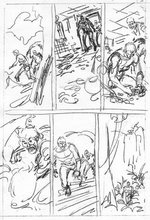 That this book is in French is even better. I cracked it open, to read (in a chest-beating pose), "Je Suis Tarzan!!"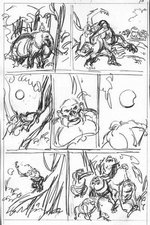 Magnifique!!