Jim McCann
Jim McCann is an award-winning writer of stage, television, and comic books. Before he could write, he found himself swept away by fairy tales in books and movies. He lived in Nashville, TN, but spent most of his time in galaxies far, far away. He wrote his first short story at the age of ten and hasn't looked back. Eventually he moved to the fairy tale city of New York where he fulfilled a childhood dream and life-long goal—working for Marvel Comics—where he stayed for six years before leaping off the sidewalk's end into the land of full-time writing. Anorev, the land in Return of the Dapper Men, is the biggest world he's ever visited, and he hopes everyone feels welcome to take their shoes off and escape to whenever they want.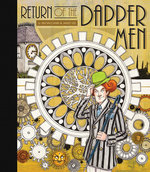 by Jim McCann and Janet Lee
Winner of the Eisner Award for Best Graphic Novel!
"Return of the Dapper Men is a transformational experience... be prepared to take a fantastic journey." — from the introduction by Tim Gunn
"The writing is lyrical and reads like a forgotten fairy tale... The artwork is often stunning." …
$34.99 (US)
$12.99 (US) DIGITAL
Details
ISBN 978-1-60309-413-9 - Diamond: APR170638