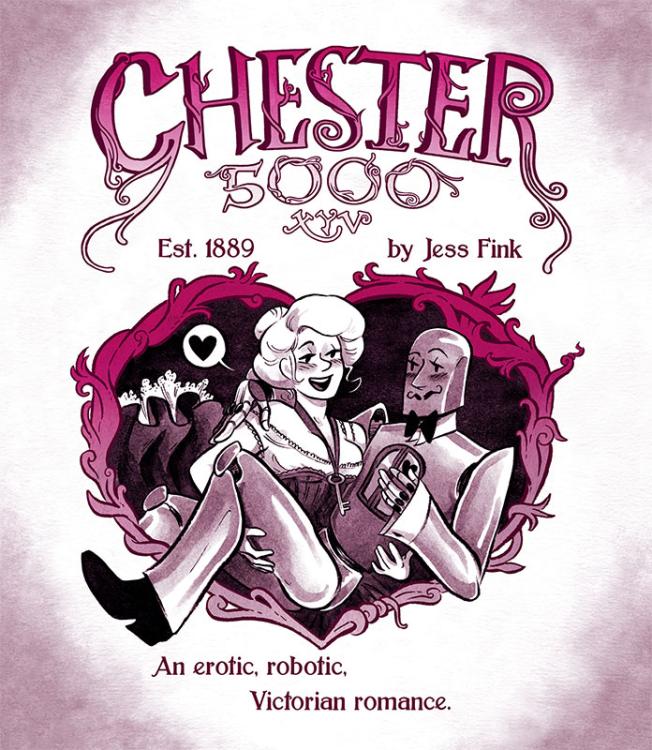 Winner of the Ignatz Award for Outstanding Series!
"Liquid and elegantly stylized." — Alan Moore
"Sexy and charming. This is pornography with a heart." — Noel Murray, The A.V. Club
"Fink's storytelling is as likely to pluck on your heartstrings as get you all steamed up." — Graeme Virtue, The Guardian
"Is there any finer thing than a gorgeously drawn and visually engaging sexy-Victorian steam-punk robo-love story? Chester 5000 is absolutely wonderful, like it was custom-built for your (reading) pleasure." — Lucy Knisley, author of Relish
"A woman-friendly, couple-friendly book destined to become a perennial in sex-positive toy and book stores." — The Comics Journal
"Delightfully playful... a genuinely beautiful piece of erotica evidently drawn with love." — Page 45
1885: an age of industrial revolution and sexual frustration. Pricilla is a woman with needs, and her inventor husband, Robert, is a little too busy with his experiments to keep her fully satisfied. Science to the rescue! With a few gears and springs, the proper appendages, a little lubrication, and a lot of love, Chester 5000 is born! He's the perfect tool for the job... but what if Chester is more than just a machine? What are the consequences of trying to engineer love?
A delight for adult readers of all stripes, Jess Fink's beloved classic reads like a whimsical love child of steampunk, silent film, and erotic comics.
-- A deluxe new edition with a new cover and enhanced artwork throughout. 144-page hardcover graphic novel, 6.7" X 7.75", FOR ADULTS ONLY
Reviews
---
Related Titles