September 26, 2012
"James Kochalka, mark my words, is our Proust."
• SPX was amazing this year. I hadn't been since the 2008 election cycle, and the return trip was energizing. My thanks to Warren Bernard, Kevin Panetta, Mike and the crew. I FINALLY met two of the people i publish, in Jennifer Hayden and Jess Fink (NSFW!), both of whom are super cool. It really is an honor to work with so many authentic and exceptional people.
Also got to meet and hang with Andrew Aydin, who is co-authoring March, with Congressman John Lewis.
Top Shelfers Grant Reynolds, Tom Hart, and Nate Powell were all on hand, either at the booth or their own tables. (Look how fancy Nate looks here with Andrew Aydin and Rep. John Lewis. Nice suit, m'man!) And of course, Leigh Walton and his girlfriend Leah rocked the booth all weekend.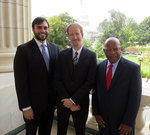 Saw a lot of people briefly: All of the Fantagraphics crew (Groth & Thompson, Eric Reynolds, Jacq Cohen, and newbie Jen Vaughn), Tom Galambos, Jim Rugg, Dan Zettwoch, Theo Ellsworth, and man, so many more people. Current intern Joyana McDiarmid, former intern Andy Kettler, Jesse Reklaw, Hazel Newlevant, and on and on. If only there was more time. Sigh...
Had the very good fortune of fine conversation with: Annie Koyama, Sean T. Collins, Tom Spurgeon, Chris Pitzer, Ethan Rilly, Renee French, Warren Craghead, Tom Neeley, Sam Arthur (NoBrow), Jim Dougan, Chris Duffy.
Gratitude to everyone with whom i crossed paths.
• Nate Powell's Frech Edition of Any Empire looks pretty rad, i'd say. And did you know, he's been publishing comics for twenty years! WTF?!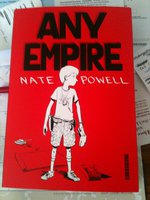 • I've been immortalized in another diary comic, this time in Jennifer Hayden's Rushes blog.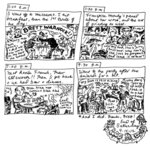 • How gorgeous is Garret Izumi's Chinese Calendar. (I know know, 2012 is almost over… it's not my fault! My sister had been holding onto this for months. Really. You can ask Garret.)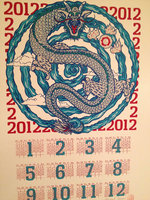 • Scott Allie with an outstanding blog on comics storytelling.