August 17, 2012
One month later... oh, Summer time! The heat has finally reached the normally temperate climes of the Pacific Northwest, and so there's been much hibernating in air-conditioned coffee-shops and trips to the river. I hope all y'all out there are doing what you can to stay frosty.
• Nate Powell is (no surprise here) one helluva busy man.
Follow this link to see a bounty of penciled pages galore on his forthcoming books! What a treat!
Also, digital-fans, Nate's mammoth comics collection Sounds of You Name is slated for release on September 19th!
• Craig Thompson is selling the original cover art to his recently remastered and reformatted edition of his epic classic graphic novel Blankets, to benefit people hit hard by monsoons in the Philippines. Learn more here.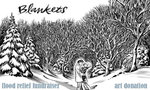 • Finally, Jess Smart Smiley's forthcoming Upside Down: A Vampire Tale has been nominated for an Arty Award... kind of a big deal in Utah. Check out a preview of his terrific all-ages book here. Learn more and vote here at Salt Lake City Weekly.