April 26, 2012
Stumptown Comics Fest and MoCCA are both this weekend, and Top Shelf will be representing at BOTH! Come see us if you can. Jeff Lemire and Nate Powell will be guests of the show at Stumtptown. I'm stoked to have these cats gracing us with their presence right here in my hometown. (My 7-year old son Carter — a budding capitalist — will also be present here in Portland, selling action figures from his collection at our booth as well. Good stuff, too!)
If you can't make it to Portland or New York, it so happens that we're having a bitchin' digital comics sale across multiple platforms too… so don't gimme no excuses, come get your Top Shelf on!
Oh, and David Chelsea [one of comics' foremost formalists and an outright excellent cartoonist] will be at Stumptown as well. Here is a link to his Stumptown Preview 2012.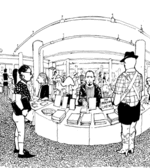 If you want to check out just how smart and cool his comics are, buy his Top Shelf book, 24 x 2!