Staff Pick: Pterodactyl Hunters in the Gilded City
February 5, 2012
This in the current new Diamond Previews, in comics shops now, and online.
Staff Pick: Pterodactyl Hunters in the Gilded City
Publisher: Top Shelf Productions
Item Code: FEB121159
SRP: $9.95
PREVIEWS Page #328
In Shops: 4/25/2012
"Brendan Leach spins a remarkably powerful fantasy short story in the dinosaur-infested urban sprawl of the early 20th-century. With no lengthy explanation of how and why there are still thunder lizards hunting humans in the New York City streets, Leach drops the reader square in the middle of a hunt. Adrenaline runs high while three men in a tiny hot air balloon basket fight an aerial battle against a predator that far outclasses them in speed, size, and maneuverability. Yet, it's the aftermath that makes this such a subtle and intriguing read!
"Eamon and Declan are brothers by blood and by shared membership in a heroic profession. Yet Eamon's the one up in the basket every night, while Declan remains in the watchtower. Declan's young still, and he does understand rationally that he's not ready — but the pterodactyls are nearing extinction. Eamon and the team are very good at their job, leaving Declan with little hope for his own shot at heroism. Worse, no matter who slays the final beast, the City will disband the Hunters and leave Declan and his brother without prospects or the safe legacy of his family's traditional trade.
"A brilliant and totally immersive one-shot, this is a must read! But that's not just my opinion. It was honored with a Xeric Grant and inclusion in 2011's Best American Comics (AUG111091). This stand alone release was a long time coming and more than well-deserved."
~Sarah Martinez
There you have it folks! Sarah at Diamond would not let you down, so order a copy from your LCS (local comics shop) asap!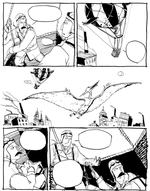 • Top Shelf alum Rick (Shuck Unmasked) Smith has been busy with his terrific cycling comic Kickstand, online and in print, and has launched a new Kickstand Club.
Check it!