October 13, 2011
From Hell is now available in digital form, ready to impress people looking over your shoulder as you peruse comics on your iPad, Kindle, or Nook. Check it out at iTunes and Comixology!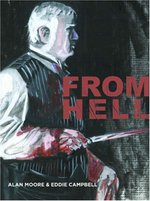 • Harkening back to yesteryear, Mark Arsenault returns to the comics fold with a newly minted Wow Cool!! No lie folks, there used to be a time before internet was widely used (gasp!), when the Wow Cool and (John Porcellino's) Spit and a Half catalogs were the only game in town where one could find and order mini-comics by your favorite comics creator or zinester. Self-publishers take note -- this could be huge.
• Oh how i love Naomi Klein... a gorgeous rabble-rouser...
Anyway, here she waxes eloquent about Occupy Wall Street, and how this might could possibly hopefully be a real game-changer. The super-elite in corporate and political power don't give a flying f*ck about you or me, people. Just sayin'...