eric skillman on his incredible design
March 2, 2011
(with illustrator Sean Phillips) for Sweet Smell of Success. Genius. 'nuff said.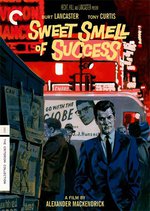 The film itself (from Criterion), made in 1957, starring Tony Curtis and Burt Lancaster, is a masterpiece; as relevant today as ever. Lancaster's role, based on a legendary Hollywood gossip columnist, is slimy, in the Glen Beck mould. The entire cast was pitch-perfect, but Curtis was out of this world.
Extras included a terrific short film about the director, Alexander (Sandy) Mackendrick, and short film about director of photography, James Wong Howe.
Great stuff. Highly recommended. Read more about this film in this Criterion essay by Paul Cronin, "Mackendrick and Odets."
• Fantagraphics & Top Shelf Presents: Con Artists, the Emerald City Comic-Con After-Party. Saturday, March 5th at the Jewel Box Theater at the Rendezvous. Featuring: Can You Imagine?;
The Rheas; and Matthew Southworth, frontman for The Capillaries. DJ'ing between sets will be DJ Janice, aka Janice Headley, Events Coordinator for Fantagraphics (and Programming Assistant at Seattle radio station KEXP).
Saturday, March 5th, 2011 at 9:00 pm
Jewel Box Theater at The Rendezvous
2322 2nd Avenue in Belltown
Admission $5 (General Public)
FREE with Emerald City Comic-Con badge
21 and over with ID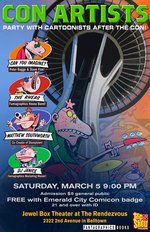 • Big thanks to AdHouse maestro Chris Pitzer for two outstanding new Nobrow Press books, he's sub-distributing. Both by a crazy-talented new talent (for me, at least), named Jon McNaught, titled Birchfield Close and Pebble Island. I am absolutely digging on this stuff. I know that direct comparisons can be tricky, but really, imagine the human moments, pacing, and natural rhythms of Kevin Huizenga (especially some of his older short pieces in his superlative mini, Supermonster) + the formal, mathematical visual patterns of Chris Ware + a warm, rich color palette straight from the Hudson River School. This = WOW.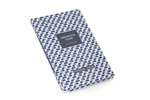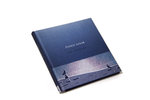 • Finally, um, yeah... yet one more in a lost list of reasons i personally am not on Facebook.