YES! Ax: Alternative Manga has left for the printer!
May 25, 2010
Here is Eric Skillman's sublime cover.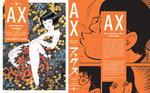 • Terrific cartoonist Jesse Hamm penned two stellar blog posts on what made the late, great Frank Frazetta's work so transcendental. Frazetta was blowing my brain on his Conan and sundry Howard paperbacks, long before my comics addiction.
• Steve Lafler has released a new song The Ballad of the Bug, in honor of his forthcoming graphic novel called El Vocho.
When i was in Mexico a few months back i had the pleasure of reading this new book (from the original art) and listening to Steve perform this song on his rooftop, enjoying local moto and mescal. With his penchant for metaphysical spiritualism in full force, i can't recommend El Vocho highly enough. Steve is a truly gifted storyteller.
• Officially booked travel and lodging for Minneapolis Indie Expo (MIX) this August. Looking forward to checking out the comics scene there!
• Random art that arrived with a communique from Gregory Benton.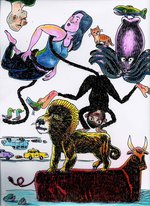 • What Bob said...

• World Cup, baby!!