Stumptown and TCAF have both come & gone...
May 17, 2010
Great time had all around. Three gents sitting across the aisle at Stumptown, sharing a table, really blew my brain — Matt Sheean, Jed McGowan, and Malachi Ward — all worth your attention. Everything they had to offer was sweet, so just check out their links.
It always great bumping into old friends, like Chris (AdHouse) Pitzer, Josh Cotter, and Jimm Rugg, and making new ones, like the super-charming Anne Koyama of Koyama Press. And while i do love Portland, it sure is great to visit Toronto. Hands-down, Christopher Butcher and Peter Birkemoe are smooth operators and run my favorite comics festival in North America. Oh, and i spent no less than three hours rummaging through the best comics shop in North America, The Beguiling.
Between these two shows i scored lots of swell loot. To be honest, i'm not sure exactly which of these two conventions any of this came from. It's all such a blur. Standouts include:
- The Klingon, by Ian Smith. (Cover by Mike Russell.) Tiny little chapbook that made me laugh out loud. One of the funniest things i've read in a long while.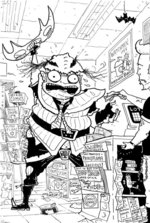 - Tigerbuttah. A faux Little Golden Book by Becky Dreistadt. I wrote about Becky's work after APE last year. I don't see her name around a lot, which is a shame, as she's one of the most talented young artists in working today.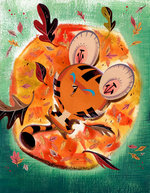 - Rambo 3.5, by the aforementioned Jim Rugg. Oh shit! Rambo and George W. mixing it up against the commie scum of the earth. Rugg is nothing short of a fucking genius. So much so, even his "throwaway" stuff is brilliant.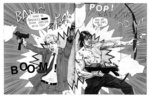 - Solipsistic Pop volume 2, anthology of British folk. I'm a lover of anthologies, and will be the first to admit, most of 'em are more miss than hit. The puppy is almost all hit. Great stuff by Jack Noel, Daniel Locke, Sally Hancox, Adam Cadwell, Lizz Lunney, Marc Ellerby, and more, all in a fancy-pants black & blue color pallet. Good stuff.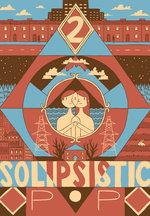 - And HUGE thanks to Peggy Burns from Drawn & Quarterly for the copies of James Sturm's Markey Day, and Dan Clowes' Wilson, two gorgeous new books i can't wait to dive into.
• Kevin Cannon has tweaked his awesome website! This mother-fucker can draw! And did i tell you his book Far Arden has been nominated for an Eisner this year? I did? Well, one more time, For Your Consideration
You can read the entire book for free right here.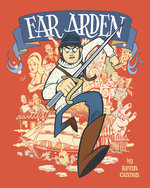 • Lizz Lunney (Mentioned above) just keeps cranking out the great mini-comics. Her stuff is witty, cute, and funny as hell. Big Cat Parade arrived in my po box, to my delight and my son as well, who laughed mightily at "The Food Dudes." I got to see Lizz briefly at TCAF too! Whoo hoo!


• Caryn A. Tate's Red Plains gets high marks AND an interview at Sequential Tart, then a fine interview over at Comics Bulletin.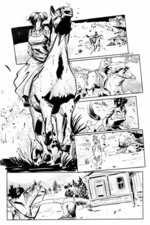 • Another TOTALLY worthy Kickstarter project, this one from T. Edward Bak. Take it was, Bak:
"I am at work on the natural history-oriented graphic novel biography, WILD MAN - The Strange Journey and Fantastic Account of the Naturalist Georg Wilhelm Steller, From Bavaria to Bolshaya Zemlya (and Beyond), currently serialized in the Fantagraphics quarterly comics anthology, MOME.
"WILD MAN is a work-in-progress, with a little over 100 completed drawings, so far, and hundreds of new drawings forthcoming.
I was recently awarded a residency in Talkeetna, Alaska, to work on this project during the summer, and aim to raise $3000 by July 1, 2010 to cover supply costs, travel expenses and a field drawing expedition through the Aleutian Islands, where the subject of my biography traveled with the Second Kamchatka Expedition's return trip to Russia in 1741. Your support not only insures the success of WILD MAN, it enables you to own an original drawing from the book, or art from the limited edition supplementary, "Beasts of the Sea".
Sample drawings and art can be viewed on my blog and you can follow Steller's story beginning in the Summer 2009 Volume 15 of MOME, through to the current issue, with more episodes on the way.
• Finally, here's what's killing the Gulf of Mexico as i write this.