[Updated, with pictures!] let's reach back, my friends. april, in fact...
August 18, 2009
That's when my co-hort Chris flew to Stockholm, Sweden, guests of publisher Galago, to attend the wonderful Small Press Expo. Jeffrey Brown had flown in ahead of us to lecture in southern Sweden at the Comic School of Malmö. To say that we were treated like royalty would be a giant understatement. And Jeffrey Brown is literally revered as a god in the burgeoning comics scene.
Note: Top Shelf now has a Flickr page, where you can browse all of the photos i took on my phone in Stockholm, Sweden, as well as some choice pages from the sketchbook from the trip.
I met lots of new people, as well as people i've known via email only for the first time, like Top Shelf alum Mawil (Beach Safari), who was manning the German publisher Reprodukt table, with Christian Malwald. And also Top Shelf 2.0 contributor Lizz Lunney, in from the UK and sharing a table with Adam Cadwell, Marc Ellerby (art on Jamie Rich's Love The Way You Love) and Anna Petterson. I learned about one of the greatest sweets ever, called Dammsugare, which translates as Vacuum Cleaner, because of its shape. Marzipan and chocolate that explodes on the palette. I drank so much beer i'm amazed i'm alive to tell the tale. The city is absolutely beautiful! (And the girls are too.) Scattered throughout are a few of the photos i snapped on my phone. I was lucky to have a recent intern Jen Vaughn from The Center for Cartoon Studies) scan the sketchbook i bought on the trip and which was subsequently filled by scads of Scandinavian (and German and British and American) cartoonists. (But mostly Swedes.) Again, these are up at the new Top Shelf Flickr account.
Anneli Furmark's sketchbook contribution, featuring Dammsugare!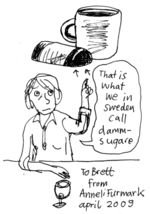 Here is Kristiina Kolehmainen, head of Serieteket (the Swedish Comics Library) at The Kulturhuset. Oh, and the dorky one on the right is me.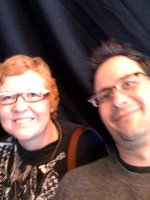 And here's Kristiina's right hand man Anders Lundgren (on the right) with Staros. Anders is works with Klubb Super 8. (Specializing in some crazy rare Swedish films!)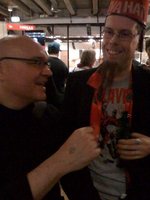 I was thrilled to meet Fredrik Strömberg, part of the world cognoscenti in comics. If you dig into the April posts at his website, you'll be treated to a wellspring of material about the show. Fredrik also penned a swell little book i picked up titled Swedish Comics History. It's in English and it's awesome! (In fact, in an ideal world we might have copies of this available here in the U.S. for when we roll out The Swedish Invasion in 2010.)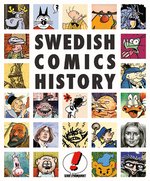 The Fins were out in force at the show, and though they were as nice as the Swedes, their language is even more difficult to decipher... so while this website seems chock full of information, sadly, i can't transcribe a single word. Still, just browsing this site is an adventure in itself.
Part of the Finnish contingent of the show was cartoonist and publisher Marko Turunen of Daada Books. This guy had some great chops, and his style ran all over the place and it is all good, as witnessed by his chunky comics collection Supernormal.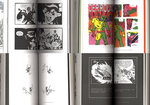 Sitting next to Marko was super-duper cartoonist extraordinaire Kaisa Leka, who's book On The Outside Looking In i picked up and wow!, this is some incredible comics. (In English!) I'm not quite sure how to get this book, but i officially nominate this in my Top Ten Books of the Year thus far for 2009. It's that smart and that well drawn.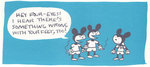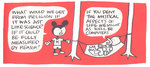 And next to Kaisa was sitting cartoonist and scenester, the ever-jubilant Johanna Rojola and the cutest girl of the festival and exquisite cartoonist, Mari Ahokoivu. These two were great conversation at the big official party.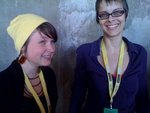 Here's the cover for Mari's new graphic novel, which she tells me she'll be sending to me for my perusal. Whoo hoo!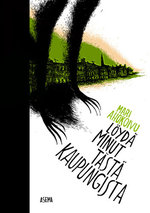 Digging on the work of Marcus Ivarsson. Publisher Optimal Press has two of his books in print, including Intro and Deluxe.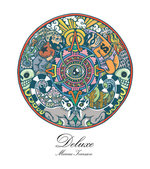 Also from Optimal Press is a stunning anthology by edited by publisher Ingemar Bengtsson called Allt för Konsten #7.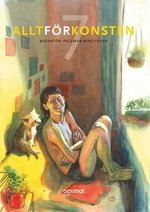 Our table was set up across the isle from Swedish indy comics stalwart and Galago co-founder Olle Berg. It's kind of a mystery to me why this guy's work isn't more well known over here. His work is as solid as any of most our own underground legends, with hints of Mariscall or Max for the almost cubist stylings.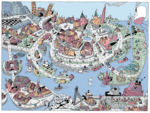 Another trick anthology, published by Kartago, is the one-writer anthology Allt Jag Rör Vid Försvinner, with stories by Henrik Bromander and illustrated by a plethora of fabulous Swedish cartoonists.
I scored many books from our friends at Galago, including Liv Stromquist's Einsteins Fru, Kolbeinn Karlsson's Trollkungen (which we'll be publishing next year!), and the most recent issue of their eponymous anthology Galago, a sort of Scandinavian cousin to anthology magazine Stripburger, from Slovenia.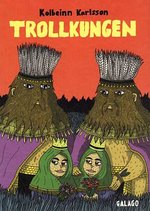 MK Reed posted this great report at Publishers Weekly, Lauren Weinstein does as well on her own blog, here is the Reprodukt report (for you German speakers), and Shannon O'Leary filed her own report at Daily Cross Hatch.