item of interest for Portlanders...
June 24, 2009
[From a Grass Hut press release]
Portland is a river city; many of us lay our eyes daily upon the mighty Willamette and Columbia rivers. Yet, deep below the city's surface runs another river, one that few have heard of and even fewer have seen. It's a mysterious body of water that some say has the power to heal the sick, to make the old young again, to give the impotent a boner. It's a magical place known as Zine River.
Another well-kept secret: the IPRC has a secret passageway to this amazing river of creativity. Our fearless Membership Coordinator Lori D has been down there for months, paddling the Zine River on a homemade raft, seeking out underground artists and zinesters to take part in this special benefit
art show. Join us for the opening reception on Friday June 26th at 7pm, and take your own wild ride down the Zine River.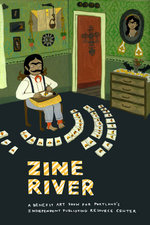 Zine River
A Benefit Art Show for the Independent Publishing Resource Center
Grass Hut Gallery
811 East Burnside Portland, OR 97214
Opening Reception: Friday June 26, 2009 at 7-10pm
The show will be up in the gallery until June 29th and online until August 2nd.
Featuring artwork and zines by Chris Johanson, Thomas Campbell, Lori D, Nicole J. Georges, Gabriel Liston, Theo Ellsworth, Dan Gilsdorf, Travis Millard, Mel Kadel, Megan Whitmarsh, Leif Goldberg, Keegan Wenkman, Scrappers, Sammy Harkham, Chris Duncan, Thom Lessner, Elizabeth Haidle and E*Rock.