March 19, 2009
Matt Kindt's Super Spy makes the grade at Unshelved.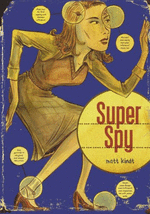 It also makes GQ magazines Top 20 Graphic Novels You Should Read list!
• Don't let anyone tell you otherwise, but i'm an "editor" of our comics section, Top Shelf 2.0, in name only. Leigh Walton is The Man. His work recently received some well-deserved props over at 4th Letter.
• Jeff Lemire is interviewed at Wizard!
• Was sent this link to a terrific short film titled Have You Ever Wanted Superpowers? I don't know much about it, but it's really fun.