first, big ups to Nate Powell!
March 4, 2009
The L.A. Book Prize nomination is a big deal, and i'll be the first to tell you, Nate's book is well deserving of the accolades.
• Meanwhile, we here are Top Shelf are in what we like to call, FREAK OUT MODE, as we gear up for the Summer season. Books to rush off to the printers, conventions to prepare for, and maybe — just maybe — i'll be able to take my 4-year old kid camping once or twice. Plus i've got a handful of side-projects i'm working on as well. Besides a couple reviews i'm obligated (and happily so) to write up, the blog updates might get scare around these parts. Not like anyone is holding their breath or anything.
• Local artist Summer Hatfield, is having an art show. Her shit rocks! She writes:
"I'm having my first real gallery show this Thursday, March 5th. Its at The Darras gallery, which is in the Everett lofts, on NW Broadway and Flanders. I have painted a mural on the wall of the gallery and will be showing several new paintings along with some prints and drawings."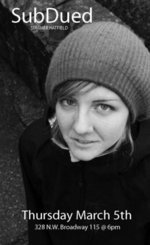 TheDarras
328 NW Broadway, Suite 115
Portland, OR 97209
503.358.1418