February 11, 2009
Surrogates fever is high!
Agent Leigh Walton was in the field at New York Con all weekend, and took this snap, a giant poster overlooking the main lobby entrance to the show, next to a big poster of the Pixar Up movie.
Slash Film has a post about it, and so does io9.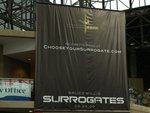 But how wicked cool is this new viral site for Virtual Self Industries!
• Buzz abounds also for the forthcoming AX Manga anthology. A nice post on cover artist Akino Kondoh at Electric Ant Zine Blog.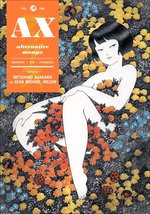 This also links to a Manga Cast entry showcasing older cover art by contributing artists in AX.
Meanwhile, Same Hat Same Hat! has a feature on Tatsumi's A Drifting Life, forthcoming from Drawn & Quarterly.
• Renee French has been driven to draw with her off-hand because of a pinched nerve... and her art still rocks! (Take care of yourself, Renee!)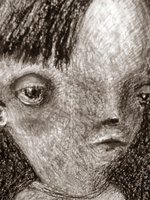 • Some Kochalka love at Devil Vet.
• Tim O'Shea interviews Todd Klein for Robot 6 at Comic Book Resources! Todd is most widely known (and justifiably so) for his masterful lettering skills. What many people don't know, is that he's also an exquisite designer as well. In fact, in addition to lettering and title logo design, Todd is packaging League of Extraordinary Gentlemen Vol. 3: Century entirely on his own.
• Finally, here's some not-comics fun as sent via email to me by Politico editorial cartoonist Matt Wueker.
Ben & Jerry have created "Yes Pecan!" ice cream flavor for Obama. For George W. they asked for suggestions from the public. Here are some of their favorite responses:
Grape Depression
The Housing Crunch
Abu Grape
Cluster Fudge
Nut'n Accomplished
Iraqi Road
Chock 'n Awe
WireTapioca
imPeach Cobbler
Guantanmallow
imPeachMint
Heck of a Job, Brownie!
NeoconPolitan
RockyRoad to Fascism
The Reese's-cession
Cookie D'oh!
Nougalar Proliferation
Death by Chocolate... and Torture
Freedom Vanilla Ice Cream
Chocolate Chip On My Shoulder
Credit Crunch
Mission Pecanplished
Country Pumpkin
Chunky Monkey in Chief
WMD-licious
Chocolate Chimp
Bloody Sundae
Caramel Preemptive Stripe
I broke the law and am responsible for the deaths of thousands . . . with nuts