arctic weather continues to pummel top shelf west coast headquarters!!
January 3, 2009
Just when a couple feet of snow melted from the last storm, the West Coast headquarters here in Portland got dumped on again last night. Then, driving around today i was pelted by a brutal shower of hailstones. Yeesh!
So, in any case, as per usual this time of year, it's been a slow week. Not much to report, except that almost twenty years after the fact i felt obligated to finally watch the highly touted television show Twin Peaks. (Spurred by my budding interest in episodic entertainment, rooted in a desire to create/oversee various iterations of web-specific content.) I'm roughly halfway done, and to be honest i was expecting to loath this. Well hellfire, anyway, but i love this so far! All of the noise i heard at the time about it being weird for weird's sake is downright wrong. Granted, it may have been complex for its time, but if anything, it may have been a blueprint for the currently hot trend of meta-television. That is, shows that take an entire season (or more) to tell a story. Kyle MacLachlan as the unflappable Special Agent Dale Cooper is a freaking hero for the ages. The rest of the cast, and the characters they play are spot-on. Plot unfolds at rapid pace, as the whodunit rolls along, all the while characters making growth from episode to episode. What really boggles, however, and something i don't associate with David Lynch, is the heart and triumph of the human spirit that shines through. Wow. Ahead of its time.
• Meanwhile, Top Shelf veteran David Yurkovich has recently self-published volume 2 of his superhero rumination Altercations. Altercations volume 1 was the very first book i ever read in the Yurkoverse, and i became an instant fan, thereafter publishing two collections of (remastered) previous material. It's terrific to see this finally complete, and i'm stoked to read it. If you like you men-in-tights flavored with a serious dose of humor and weird, check this out. Available at Indy Planet or by way of his own site, Sleeping Giant.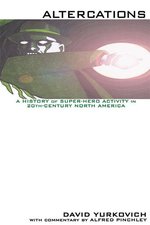 • And here is a bitchin' Batman illustration nabbed from Lukas Ketner's blog. This guy can draw. DIg this, and spread the good word.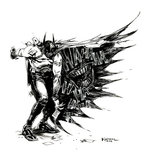 • I'm out. Y'all have one hella kick-ass 2009!