jeff lemire's country nurse ranks tops on
December 24, 2008
Randy Meyers' Top Ten Graphic Lit books for 2008, at Contra Costa Times.
• Some recent holiday cards.
Center for Cartoon Studies sent their new holiday card, courtesy of James Sturm, art by Chris Wright.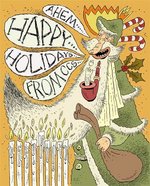 Bill Kelter and Wayne Shellabarger. Read about the genesis of this timeless piece at the Veeps blog.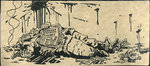 • Top Shelf alumnus Rich Koslowski is interviewed at Newsarama!
• Stripburger News!
The 48th issue of Stripburger features two special sections.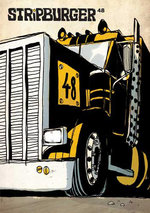 The first one introduces us to Dongery, a group of comics artists from Norway (Bendik Kaltenborn, Flu Hartberg, Sindre Goksoyr and Kristoffer Kjolberg).
The second sections reveals one of the youngest comics scene in Europe - that of Latvia (Anete Melece, Kaspars Groshevs and Ingrida Picukane). Also in the focus of this issue is Marco Corona, perhaps one of the most intriguing Italian cartoonists at this moment. Corona was interviewed by Paola Bristot.
Stripburger no. 48 also boasts an unusually high percentage of Slovene authors. Domen Finzgar makes his debut in this issue, while Damijan Sovec returns after a long absence with a series of travel comics. Other highlights of the issue include works by Olive Booger (France), Janek Koza (Poland), Tea Hvala (Slovenia), Gasper Rus (Slovenia) and the duo of Matej Lavrencic and Koco (Slovenia), to name just a few of them.
• B.ü.L.b comix, a non-profit making publishing house for independant graphic novels and comix based in Geneva, Switzerland, has just launched version 2.0 of the website and thought you'd be interested to visit it.