one of my first publisher heroes, Dean Mullaney, is interviewed at Newsarama.
December 7, 2008
Topic of discussion — his brilliantly conceived and executed Library of American Comics. Terry and the Pirates, Little Orphan Annie, and Scorchy Smith have all seen gorgeous treatments (arguably the best ever) and starting soon, Dean will take over the Dick Tracy reprint series, and enlarge its size, bringing it up the the Terry book dimensions.
We live in a new Golden Age of classic comic strip reprints people (see also: Popeye, Peanuts, Dennis the Menace and Jules Feiffer from Fantagraphics; Walt and Skeezix from D & Q; Little Nemo, Little Sammy Sneeze, and Walt and Skeezix Color Sundays, from Sunday Press). We should all be thankful.
• I really dig the tiny little boutique here in Portland called Tender Loving Empire. Not only do they sell lots of nifty hand-made crafts and shit, but they create and produce cool stuff as well. AND they are a commercial screen-printing outfit as well.
You could do worse than visit their store (or the website, if you don't live in Portland), while you gift-shopping for your hipster friends.
Art by Andrew Sloan.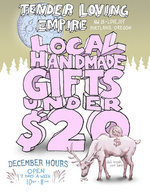 Two books come especially highly recommended: Mike Bertino's Pinwheel, and the anthology Shitbeems On The Loose, featuring the likes of Luke Ramsey, Mike Bertino, Drew Beckmeyer, Ron Rege jr, Brent Harada, Hector Serna, jr., Thomas Crawford, Rusty Jordan, Matt Furie, Dave Nuss, RobynJordan, and Grant Reynolds.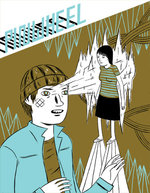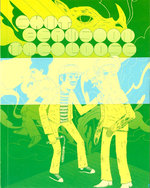 • And another new drawing for the forthcoming, revamped Soap Lady reprint.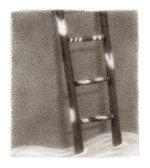 • LOVE it!!