witness: a stunning piece by Renee French for the re-formatted Soap Lady, which we'll be publishing
December 2, 2008
sometime in 2009.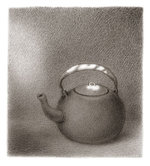 Tom McLean has left the Bags & Boards blog for Variety dot com. Bummer. But he's keeping the name and blogging on his own now, free from the constraints of his corporate masters. Whoo hoo! Tom knows his shit, people, so bookmark this site pronto. His links list alone is a marvel.
• Super-wonk Bill Kelter is back to his blogerific ways on the Veeps blog, after a brief post-election hiatus. And he delivers the goods, as always.
• NPR: Five Hefty Tomes to See You Through Your Turkey Coma. Almost a week late, but cool to see three of five NPR picks being Top Shelf fare: From Hell, Blankets, and Box Office Poison.