end of an institution... r.i.p. punk planet
June 21, 2007
Dan Sinker, he who is Punk Planet, sent out a mass email announcing the last issue of this seminal magazine, which eventually fell victim the ruthless powers-that-be (new postal mass-mailing regulations, anybody?) which seek to kill the independent voice.
Punk Planet was, in my book, one of the greatest magazines ever. It covered basically any and all categories of independent entertainment, from music and film to literature and comics. More importantly, PP was also a champion cultural journal which discussed the politics of the day in informed and impassioned essays, articles, and what have you. Kudos to Dan, and all of the folks involved, on a stellar run.
The good news is that PP will continue on as a web magazine, as well as publishing the occasional book.
Recent PP editor and long-time comics head Anne Elizabeth Moore will be floating around with the end of the print mag, taking a break doing not much of anything, and i for one can't wait to see what she has up her sleeve next!
• Nick Bertozzi is a cartoonist who for some reason doesn't get the props he deserves. One of the brightest talents working today, he's well-loved by industry insiders and critics alike, and i can only hope that with two high-profile books of his out right now, The Salon and The Handcuff King (about Harry Houdini), the general readership for fine comics catches up with the Joneses.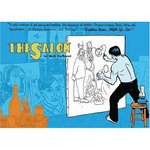 The Daily Cross Hatch has a three-part interview with Nick, the first two parts of which you can read here and here.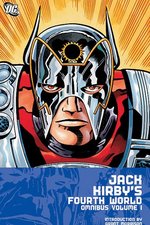 • Volume one of Jack Kirby's Fourth World Omnibus line has arrived, and it is awesome!! There's a bit of a debate over at the Marvel Masterworks message boards, about the paper stock used. Normally, most of Marvel and DCs expensive (and luxurious) archival books are printed on high-end, acid-free offset paper. For the price paid for many of these (some topping a hundred bucks), this is not an unreasonable demand. For whatever reason though, DC chose to print these Fourth World books on what appears to be a high-grade newsprint. Yikes! That said, besides that we're looking at $50 for an almost 400-page, hard cover, full-color book, i can't imagine this looking any cooler. Kirby's shit simply sings on a newsprint printed page (which i'm almost certain he planned for at the time he was creating this stuff), what with his chunky art and patented Kirby Crackle.
The design on this book is stellar. (Although sadly, not credited.) Riffing on the school of big, splashy uber-design which Chip Kidd has made so popular (though by no means invented), i have to say, i'm in love with this. I read those crappy b&w editions of the Fourth World DC put out a few years ago, and while i loved the material, the presentation sucked. Plus, with this new reprint project, the stories (represented over four different titles) are being presented in the order of publication, exactly as they were rolling fresh out of the brilliant mind of King Kirby, arguably at the zenith of his powers.
Seriously, i haven't been this excited for a book since the Uncanny X-Men Omnibus. If you like super-hero comics, this is truly a "must-have" item.
• There's a lengthy new interview with David Yurkovich at Comix Fan, about his upcoming benefit book for veteran Marvel scribe Bill Mantlo.
•Â Slow new-comics-day today... only picked up two books, and they couldn't possibly be more different …Â oversized HC Ultimate Fantastic Four vol. 3 (over-the-top widescreen action fare) and manga masterpiece, Yotsuba&! vol. 4 (cute cute cute).
• I'm outta here.... off to New York City for MoCCA, followed by my first ever trip to Montreal. See you next week.
* And finally, a call to arms, from Comic Book Legal Defense Fun Executive Director, Charles Brownstein:
The Comic Book Legal Defense Fund urgently needs your help. This August, the long-running case of Georgia v. Gordon Lee will finally go to trial, with court costs expected to hit $20,000.
For nearly three years the Fund has defended Georgia retailer Gordon Lee, seeing him through multiple arraignments and procedures, and racking up $80,000 in legal bills. The charges stem from a Halloween 2004 incident in which Lee handed out, among other free comics, an anthology featuring an excerpt from the critically acclaimed graphic novel The Salon. The segment depicted a historically accurate meeting between 20th Century art icons Georges Braque and Pablo Picasso, the latter depicted in the nude. It was a harmless sequence, no more explicit than the nudity displayed in the award winning Watchmen. Yet because the title found its way into the hands of a minor, Floyd County prosecutors hit Lee with two felony counts and five misdemeanors. The Fund eventually knocked out most of the charges, but must now defeat the two remaining misdemeanor counts of Distribution of Harmful to Minors Material, each carrying a penalty of up to one year in prison and up to $1,000 in fines.
The case is slated to go to trial the week of August 13. We urgently need your support in order to wage the best defense possible against these remaining charges, and that means raising the $20,000 that the trial is expected to cost. Here's how you can help:
Make A Monetary Donation: Every dollar counts, so please visit the cbldf.org and make a tax-deductible contribution today. As a thank-you for making a donation of $30 or more, the Fund will give you a brand new t-shirt displaying the text of the First Amendment in the shape of an American flag. Show your commitment to free speech, and your support for this very important case.
Join The CBLDF: Now is the time to join or renew your membership in the Fund. Your member dollars provide the baseline of support that we need to perform our casework, and defend your right to buy whatever comics you wish. If you join now with a basic membership of $25 you will receive a CBLDF Member Card, featuring new Groo art by the one-and-only Sergio Aragones, as well as a subscription to our news publication Busted!, and special admission to CBLDF events across the country. If you join at a level of $100 or more, you will also receive one of the new First Amendment t-shirts.
Donate Original Art & Collectibles: With summer conventions upon us, the Fund needs original art, high-grade comics, and other collectible items to make the most of our summer auctions. Please e-mail cbldf1@gmail.com for more information about how to donate to our auctions, or with a description of your intended donation. If your donation is accepted for our summer auctions, you will receive a letter of acknowledgment and a 2007 membership. To ensure that your donation is received safely, please do not send physical items until accepted by the CBLDF.
With Gordon Lee's freedom in the balance, the CBLDF needs everyone who values Free Expression in comic books to do his or her part to support this very important case. Please visit www.cbldf.org and make your contribution today.