so much happening
April 7, 2007
Back from Emerald City in Seattle last weekend (which is, unfortunately becoming more a "hot-creator" mainstream show, and less indy friendly) and already i'm gearing up for my annual trip to APE, back down in San Francisco.
(The Fantagraphics party was a hoot, though; hosted at their store, it's located in some seedy industrial neighborhood in South Seattle, chockablock with cool bars and even some goats tied up on the sidewalk. Also great fun was hanging out with former intern Carlos, and his delightful girlfriend, whose name i suddenly can't remember.)
Tonight, the family heads over to cartoonist extraordinaire and great pal Garret Izumi's place, to be guinea pigs sampling his mole´, which he plans to enter into a Betty Crocker contest. Who said comics people only eat mac & cheese for dinner! (Well, certainly not Matt Wagner, who's cuisine i've had the pleasure of sampling. Mmmm... he's REALLY a great chef.)
Anyway, moving right along...
• Webmaster Nate has updated the comics section of our site.
There's some really fine work up there, featuring Steven Dhondt (Stedho), Brecht Evens, Zeno Sworder, J.D. Wilkes, and Jeff Zwirek.
• Tom Hart's syndicated comic strips is loads of fun. Don't believe me? Then check out this, this, and this.
Here's a sample.


• More YouTube fun... two absolutely freaking wingnuts … O'Reilly and Geraldo … going toe-to-toe. And weirdly enough, even though he's become a huge joke in recent years, i love how Geraldo held his ground here. An epic battle of talking heads.
• James Kochalka continues to send me weird links, and i'm glad, because it's often quite interesting, ergo fodder for the blog!
And speaking of Kochalka, WIRED magazine's blog posted a neat plug for his "monster Mii" diary strip.
• Dave K. recently posted some comics that he has in recent/upcoming publications.
The color comic will appear in the next issue of Meathaus (summer 2007)
The black and white piece appears in Syncopated #3 (out now)
(Here's a cool image i nicked from his blog.)

• The Daily Cross Hatch has a nice piece about ink-stud Alec Longstreth.
•Â IÂ can't recall if i posted UIana Zahajkewycz's final poster design for our 10-Year Anniversary or not, so here it is again. I can't wait to see this in print!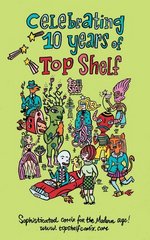 •Â Finally, here is another round of ads that Chris Ross put together for the co-opt ads we made with Portland-area retailers (this one with Counter Media), which run at the Laurelhurst Theater.