i love it i hate it...
March 4, 2006
...i love the Comics Journal, i hate the Comics Journal. But really, i do love the Comics Journal.
I've been more strapped for time than any person should be lately, but found some time in the last few days to read a couple issues of "TCJ," starting with issue # 271, featuring a fabulous interview with our own Renee French; including shop talk about her forthcoming Top Shelf graphic novel, The Ticking.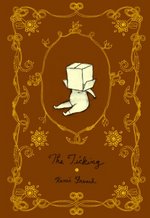 (And speaking of. Holy shit, people, i just got a handful of copies of The Ticking airmailed in from China -- the rest are literally on the slow boat coming across the Pacific Ocean -- and i must say, this is possibly the single most beautiful book we've ever published. The highest props possible go out to Jordan Crane, designer and cartoonist supreme. Seriously, you have to see this luscious, chocolate colored cloth cover hardback, with gold leaf ornament and an embossed central image, to believe it. And it's hands down Renee's magnum opus. Kudos to both Renee and Jordan. The book will be available in maybe a month or five weeks? Depending on when that ship comes in.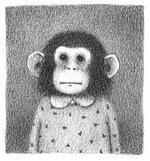 But getting back to the Comics Journal. First, let me preface this by saying that what has made TCJ essential again, is the stewardship of the relatively new editor-in-chief, Dirk Deppey. Yes, there is still an occasional starky tone, and loads of biased, self-righteous reviews, but the meat is back on the bone, and the magazine is vital again. Excellent!
The real reason i was compelled to write this though, is the absolutely delightful, 2-part interview (conducted in two issues, #271 and #272) Gary Groth conducted with Jerry Robinson, known mostly for his (uncredited) work with Bob Kane on the early Batman material. (Alongside the also uncredited Bill Finger.) Sure this is interesting stuff, but i had no idea what a Renaissance Man this dude really was. His illustration work; teaching with Hogarth at SVA; starting his own newspaper comics syndicate; drawing a long-running, six-days-a-week, syndicated comic strip; and, most presciently, as the President of the National Cartoonists Society, his challenging work to free a jailed political cartoonist from prison, for challenging his government in Uruguay.
What a freaking stud, I had NO IDEA!! Many many thanks to Gary and the Comics Journal for this MOST entertaining, enlightening, and inspirational interview.
Oh, and the most recent edition of TCJ has a spirited Blood & Thunder section (letters pages), like i haven't seen since i started reading this most important of industry publications almost 17 years ago.
Viva la Comics Journal!!