Brett Warnock

Brett Warnock really loves comics. His Holy Trinity, the books that made him a believer as a freshman in high school, are the Claremont/Byrne X-Men, the Wolfman/Perez Teen Titans, and Frank Miller's Daredevil. He's still a huge fanboy, who splits his comics dollars between independent "lit comix" and "men-in-tights" comic books.
He is the publisher, art director, production manager and sometimes book designer for Top Shelf, though his greatest work to date is his son, Carter Grant.
Reviews & Interviews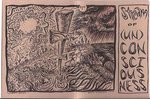 That's right, it's the rare first comic ever published by Top Shelf co-publisher Brett Warnock -- and drawn by him too!
$1.00 (US)
Details
by Brett Warnock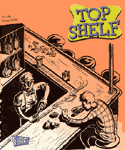 Brett Warnock began publishing in 1995 with the anthology TOP SHELF. Created in the spirit of promoting the careers of up-and-coming cartoonists, the anthology has since grown in scope and size, garnering critical accolades, as well as Best Anthology nominations from both the Harvey and Ignatz …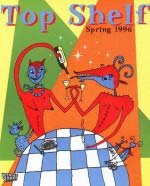 Brett Warnock began publishing in 1995 with the anthology TOP SHELF. Created in the spirit of promoting the careers of up-and-coming cartoonists, the anthology has since grown in scope and size, garnering critical accolades, as well as Best Anthology nominations from both the Harvey and Ignatz …
$5.00 (US)
Details
40 pages, Anthology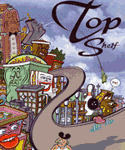 Brett Warnock began publishing in 1995 with the anthology TOP SHELF. Created in the spirit of promoting the careers of up-and-coming cartoonists, the anthology has since grown in scope and size, garnering critical accolades, as well as Best Anthology nominations from both the Harvey and Ignatz …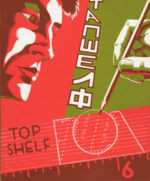 Brett Warnock began publishing in 1995 with the anthology TOP SHELF. Created in the spirit of promoting the careers of up-and-coming cartoonists, the anthology has since grown in scope and size, garnering critical accolades, as well as Best Anthology nominations from both the Harvey and Ignatz …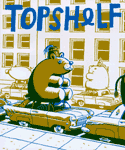 Brett Warnock began publishing in 1995 with the anthology TOP SHELF. Created in the spirit of promoting the careers of up-and-coming cartoonists, the anthology has since grown in scope and size, garnering critical accolades, as well as Best Anthology nominations from both the Harvey and Ignatz …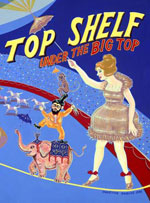 by Josh Simmons and Brett Warnock
Brett Warnock began publishing in 1995 with the anthology TOP SHELF. Created in the spirit of promoting the careers of up-and-coming cartoonists, the anthology has since grown in scope and size, garnering critical accolades, as well as Best Anthology nominations from both the Harvey and Ignatz …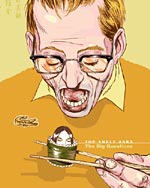 by Nicolas Mahler and Brett Warnock
Co-edited by Rob Goodin and Brett Warnock, Top Shelf Asks The Big Questions, features the controversial Alan Moore and Melinda Gebbie Cobweb story, previously banned by DC Comics from the ABC/Wildstorm anthology Tomorrow Stories, providing Moore's heroine and her fans with the sense of completion …