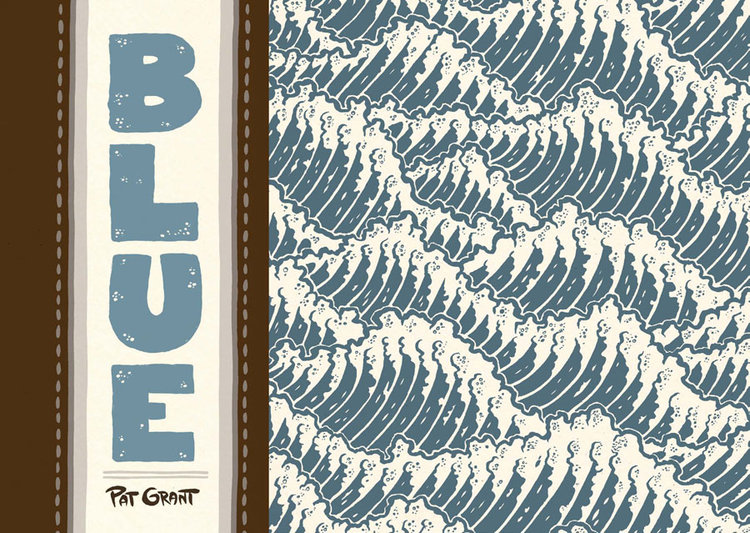 Blue is a fascinating blend of autobiography and fiction with a sci-fi twist: in a seaside Australian town struggling with alien tentacle-creature immigration, a trio of aimless teenagers skip school to go surfing, chase rumors of a dead body, and avoid dealing with their own fears. A re-release of Pat Grant's stunning, debut graphic novel. -- 96-page softcover graphic novel with 2-color interiors, 9.4" x 6.6" (landscape format)
Read Pat's very funny SHAMELESS PUBLICITY DOCUMENT!
Here's what Craig Thompson, author of Blankets and Habibi, has to say about Blue: "This book rekindles my earliest enthusiasm for the comics medium. Pat Grant is the Australian Mark Twain, trading Huck's raft for a waxed-up surfboard and an inked-up sable brush. Vast themes of racism and immigration unravel in sprawling murals and a single day in the life of some reckless teens in this sea-polished, perfect nugget of a book."
"Pat Grant is serious about comics." -- Scott McCloud, author of Understanding Comics, Reinventing Comics, and Making Comics
"Blue is everything a good comic can be." -- Shaun Tan, author of The Arrival and Tales from Outer Suburbia
"An affecting coming-of-age graphic memoir." -- Paul Gravett, author of Graphic Novels: Stories to Change Your Life
"Complex and beautiful... an uncommonly sophisticated look at prejudice and localism." -- Andy Khouri, ComicsAlliance
"While this graphic novel is strongly rooted in its Australian setting, the thorny questions of cultural identity, assimilation, and inexorable change are applicable to any place that sets up divides between people. So, to everywhere." -- Ian Chipman, Booklist
"Stunningly accomplished...a surf-punk-scored reflection on old friends and the roots of racism. Grant's Blue is a wholly original, enormously entertaining comic, heralding a new talent that we may be enjoying for decades to come." -- Noel Murray, The AV Club
"Grant's dialogue is keenly observed and the cast's grinning, scowling, spitting faces are enormously expressive. Where Blue succeeds most, though, is its sense of place." -- Martyn Pedler, Bookslut
RE-RELEASE SHIPPING MAY 2020!
Reviews
---
Related Titles