March 28, 2006 / More →
Just back from a late-night flick with my pal Mario at the pub theater The Laurelhurst, just a few blocks from my house. On the big screen tonight? Mad Max Beyond Thunderdome. The verdict? Brilliant.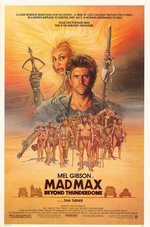 For years and years i've been listening to people rant against Thunderdome, as the only suck movie in the Mad Max Trilogy. And while i concede that the '85 score is pretty dated, and there may be a couple too many cuddly moments (especially compared to the first two films), i call bullshit. George Miller continues exploring the themes he started in Mad Max and Road Warrior deftly and with aplomb. If you can move beyond the over-produced gloss of the film itself (as was the case with virtually all major media in the mid-1980's), Miller's ideas pertaining to a post-oil, post-apocalyptic world now seem downright prescient. (Plus, NO Ewoks!!)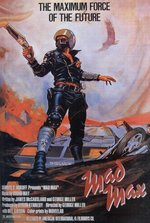 Consider, Mad Max episode one, peak oil is in the past, and the strains on a civilized society are cracked at best, law and order succumbing to biker gangs reeking unchecked destruction around them. Mad Mad: The Road Warrior segues a few years into the future. Oil and water are the new precious commodities, and civilization as we know it have pretty much disappeared. Mad Max Beyond Thunderdome, then, Max's hair down to his ass, and the rise of new communities: the feudal Western-minded Barter Town (cynical as hell) and the egalitarian city of the Lost Children, representing a more naive (re: hopeful) attempt at reestablishing a new way of life amidst the wastelands. Beyond Thunderdome in particular is a superb anthropological meditation on both dawning civilizations and how religion develops around them through myth, and handed down stories. (I love how the Legend of Captain Walker is based on an airline promotional View-Master reel!)
And look at us now... the Middle East, looking more and more every day like the fabled End of the World scenario dreamed about by fundamental religious wingnuts; water disputes in third world countries, with international corporations "buying" the water sources and forcing the indigenous peoples to pay for their own right to freely drink THEIR OWN freaking water!! I'm telling you folks, for all the cautionary tales we have in the canon of popular entertainment, we have as many freak-bots out to ignore said tales and rule the world.
Pig-shit (methane gas) as the fuel-source. "Pig Killers," illegally bagging swine to feed their families, forever shoveling carp. I love these details. And the requisite car-chase, as Max and crew make the escape from Barter Town, still kicks major amounts of ass. (My favorite customized vehicle? The cowboy-mobile, complete with spotted cow hide.)
Brilliant.
.....
And moving right along, last night i finished reading the 6-issue mini-series by Rick Veitch and Tommy Lee Edwards sci-fi thriller The Question. This is REALLY excellent comics, based on the creation of Steve Ditko. But for a change of pace, the ret-con treatment to bring it up to date, makes it (in my mind) better than the original. Veitch taps into contemporary events, what with the ultra high-tech surveillance and data-mining. Veitch delivers yet another valuable cautionary tale, but it's Edwards who truly brings it home. His art in this series if some of the best in this industry, world-wide. My guess is that this series will not be collected, which a shame. I can only hope that it receives some award nominations, as it's a rare example of a fine work amidst the myriad spin-offs, mini-series, and/or one-shots by the majors, that stink up the gutters and overcrowd the marketplace.
For the record, i'm a wait-for-the-trade guy, but mainly only when i have a sense that it will be collected anyway. (Can anyone say, Grant Morrison/Frank Quitely All-Star Superman?) But, since this has been Top Shelf's modus operandi since our inception, this probably isn't a big surprise to most readers. As a publisher who entered the game AFTER the crash of '94/'95, it's never made fiscal sense for us to serialize what we instead release as "original graphic novels." But as a voracious fanboy of comics, with a serious limited budget, i refuse to knowingly buy something twice, when my preferred format is in collected form, with a spine, and in hardcover if possible.
That said, as in the case of The Question, or the Jason Hall/Cliff Chiang Creeper mini-series, or even Gotham Central and Sleeper as they were coming out; if i'm not sure that a book will eventually be collected, then MAYBE i'll buy the floppies. And for those who say to me it's my DUTY to buy the floppies, IN ORDER for the trade to have the market to warrant a trade... well to you folks, i'll send my one-day-a-week daycare bill for wee little Carter.
.....
And lastly, this afternoon while The Kid was napping, i FINALLY read Local #1, by Brian Wood and Ryan Kelly. In a word, awesome. I've been a Wood fan for years now, and Kelly's work is a perfect fit for this very interesting story. Besides that i'm a homeboy of the featured town in this debut issue (Portland, OR), the structure of the story was inspiring. Sort of a Rashomon-esque narrative, but instead of pov's from various players in the story, it's different scenarios played in the head of the protagonist, Megan McKeenan. This is a mini-series from my friends at Oni Press, and truly well worth your time. Now i just need to get my paws on #'s 2 & 3.
Out.
---
March 27, 2006 / More →
I was recently forwarded an essay written from the School Library Journal, written by a school media specialist (librarian?) who has discovered how absolutely compelling comics can still be for kids (who generally simply don't have any exposure to comics), and what great educational tools they can be.
It's a wonderfully comprehensive article, easy to understand for the uninitiated, and chock full of anecdotes and recommendations. Including several Top Shelf titles: Owly, Pinky & Stinky, and Monkey vs Robot.
The article was written by Allyson Lyga, and published in School Library Journal Vol. 52, Issue #3, March 2006.
Here are two fabulous excerpts. The first provides an example of her firm grasp of what makes the medium tick, while the second is a testimonial which centers on Andy Runton's Owly.
* Brain Food
I always like to say that, educationally speaking, graphic novels give
the brain more of a workout per sentence than any other type of media,
including conventional books. That's because as a reader takes in a
graphic novel's print and art through a series of panels, word balloons,
and captions, the reader's brain is bombarded simultaneously with the
graphic novel's characters, setting, plot, and action. So if a parent or
teacher claims that reading graphic novels isn't much of a challenge for
a child, hand him one. Explain how the brain works to comprehend the
story and how it detects the subtle nuances of the characters' facial
expressions.
* SINCE I STARTED STOCKING OUR SCHOOL LIBRARY WITH graphic novels six
years ago, I've discovered that kids love them...
Of course not everyone thinks graphic novels are wonderful. Some
teachers, parents, and even media specialists wonder if they're even
appropriate for young students to read. Are graphic novels really worth
purchasing? Or do they just pander to kids' wants without meeting their
educational needs? To best answer those questions, let me share a
typical experience I had with one of our third graders, a below-average
reader named Bryonna.
Bryonna checked out a copy of Owly, one of our most popular graphic
novels, earlier in the year. She came up to me before class and held it
up: "I love this book," she said. "It's my favorite book!", I was
thrilled and wanted to know more. "It's a story about friendship, and
there aren't any words in the book," she told me. "I read the story to
my two-year-old sister, and she loved it, too!", "How did you read a
book without words?", I asked her. Bryonna explained that when she
looked at the pictures she thought about the words the characters were
saying and she visualized the words in her head. Then, when she read the
story to her sister, she created the dialogue and story based on the
pictures.
---
March 25, 2006 / More →
No excuses for not posting these last few days, but damn, so much happening. As i wrap up everything on Lost Girls, i needed to make PDFs of each book for Staros to do a final review of... each book as a PDF is over 500MB. This is so huge, it was bogging down my computer so badly, i couldn't perform any other functions. Crazy crazy stuff. Needless to say, this last minute stress is so worth the fact that we're THIS close to sending the book to the printer. It's been a long long time coming.
Meanwhile, waiting for cds to burn and what have you, i got caught up on a little reading.
• Papercutter #2 (Tugboat Press).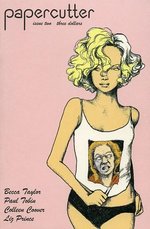 Edited by Greg (Clutch) Means, this is the little anthology that could. I'd say this is the most vital of all current anthologies at the moment -- in part because it's so unassuming, and given it's smaller, mini-comic stature, so much less pretentious in this age of excessive & gratuitous anthologies.
The cover and lead story are by a cartoonist new to me, Becca Taylor, and boy do i love this strip, title "Cherchez la Femme." Told in a unique montage style, and rendered with a fine line and occasional grey-tones, Becca's tale jumps through time and ostensibly tells the tale of a controversial actress's life story. But lurking beneath this simple plot lies a subtext that explores gender roles in Hollywood, the hot & cold trajectory of celebrity, and a scathing indictment of the role of the media in all of this. Excellent.
Next is a fabulous mystery fairy-tale called "Criminal Intent," by Colleen Coover and Paul Tobin, which could almost be called an "Elseworlds" story about Catwoman. It's a simple enough idea, about a hottie cat-burglar who steals not just jewels and what have you, from a small (British?) town, but also the hearts of the townsmen too. But what makes this strip really cook is Colleen's incredible art. Coover is developing a style of magic realism that border's on sublime, reminding somewhat me of Hope Larson's beautiful work. Colleen Coover is the real deal, and i can't wait to see what she does next. That is, after the release of her collected Oni book, Banana Sunday.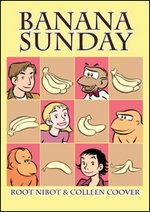 Last up is a cute little 3-pager by Liz Prince, "Ghost Buddies," that stretches her single-page strips as seen in Will You Still Love Me if I Wet the Bed?, and works towards developing a slightly longer narrative. Fanciful and fun, it's great to see Liz getting more of her work out there, knowing that her admiral goal at the moment is finishing school.
•Â Comic Effect #44.
Jim Kingman's Comic Effect is an old-school zine about one man's love of comics, and it can be quite infectious. While he holds the door open for other contributors, ultimately the zine is fully infused with Jim's sensibilities, and his proclivities towards Silver Age DC Comics. There are occasional nods towards a variety of subject matter, including a props for a few Top Shelf books, but for the most part, it's an unapologetic love fest for men-in-tights comics. (Which is why i love this zine so much, being a fanboy myself.)
But the essay that grabbed me most in this issue, is a treatise by Jason Sacks on DCs ill-fated comic book from the late 60's (under the experimental editorship of Carmine Infantino, i believe), of Joe Simon's wacky Brother Power the Geek, #1 & 2. After a little bit of background, Sacks goes on at length to describe the contents of what can only be called a Dada-esque ride, comparable to some of the more esoteric works by our contemporary madman Grant Morrison.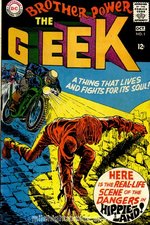 Now, i realize there's probably zero chance that DC would ever collect these two issues into one prestige format book, but for the record, i'd buy it!!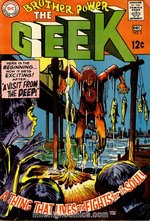 •Â Not sure if anyone cares, but here's what i'll be looking to pick up come June, from the new Diamond Previews catalog. But first, can i just say how absolutely freaking stupid the new "Spider-Man" costume looks. Wow. This is really really lame. (I haven't read anything about it actually... certainly none of the comics. And i don't intend to, no offense to the WFH creators.)
From front to back.
DC COMICS:
Absolute Kingdom Come. This is how Alex Ross (whose work is fascist, according to some) should be seen. Especially the wildy over-the-top shit like this. (His "serious" comics, with Paul Dini are played WAY too straight, and suck pretty bad, for my tastes.)
Seven Soldiers of Victory vol. 4. I'm waiting until this is all collected before i dive in, which is how i prefer to read finite projects.
Showcase Presents Elongated Man. Worth the price of admission for the Gil Kane Batman back-ups alone. Wacky wacky stuff. This is a perfect example of why i'm liking DC's b&w phonebooks so much more than the Marvel Essentials. (Plus they have better trade dress and overall production values.)
MARVEL:
The Eternals oversized hardcover, by Jack Kirby. 'Nuff said.
Daredevil vol. 5 oversized hardcover. The end of Bendis' definitive and superlative run. Just amazing comics. (I hear The Brube is doing well out of the gate as the new writer taking over with this title. Looking forward to it... here's hoping Marvel will continue with the hardcover collections.)
FF / Iron Man: Big in Japan tpb. Seth Fisher's final major work, drawn on location in Japan. Worth buying for the pictures alone.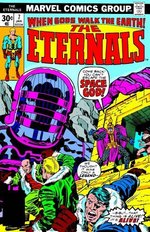 DARK HORSE:
B.P.R.D: The Black Flame. Guy Davis is amazing.
The Artist Within. Greg Preston's BRILLIANT collection of photographs of cartoonists in their own studios. This is a book that got away from us... we simply dropped the ball with Greg, and he (rightfully) bailed to Dark Horse. I literally cannot recommend this book enough. Every portrait is a masterpiece. Order one now.
The Comics, by Jerry Robinson. I've been looking for a good-condition copy of this highly regarded historical tome for years, and now the wait is over. Beautiful cover too.
IMAGE:
Fear Agent: Re-Ignition tpb, by Rick Remender and Tony Moore. Tony Moore blew me away with his work on the early issues of Walking Dead, and Rick made me laugh my ass off at WonderCon this year, so i'm jumping in blind.
(maybe) The Drowners, by Nabiel Kanan. I've heard nothing about this, and since his work is hit or miss for me, i'll wait until i hear something about it. Anything.
AdHOUSE:
- Skyscrapers of the Midwest, by Josh Cotter. A new issue of some fabulously deranged comics. Gets under the skin, it does.
DRAWN & QUARTERLY:
Get A Life, by Dupuy & Berberian. One of the French greats, by a team who is virtually flawless. Can't wait to be reading this. Good job D&Q.
Maybe Later, also by by Dupuy & Berberian. A production diary of sorts, breaking down the odd way in which they divide their duties.
FANTAGRAPHICS:
Pussey!, by Dan Clowes. The only collection of his Eightball oeuvre i don't already own, FINALLY back in print. Goddamn funny comics.
Bardin the Superrealist, by Max. Fanta gets into the euro-reprint game, this one by the Spanish master.
Comics As Art. A history of Fantagraphics, by ex editor-in-chief of the Comics Journal, Tom Spurgeon.
Passionella and Other Stories, by Jules Feiffer. I have a battered old softcover edition of this, and would love to have a nice new hardcover. Kudos. (This is hands-down my favorite era of Feiffer's career. His acerbic handle of the neurosis of the Cosmopolitan 50s is wonderful.)
IDW:
Tommyrot: The Art of Ben Templesmith. When this guy is on, he's astounding. In the Impressionist school, his work on the 30 Days of Night trilogy (with Steve Niles) rocks.
VANGUARD:
- Wally's World. Vanguard has a varied track record with their production values. If this looks good, who can't resist an illustrated biography of Wally Wood.
(Publisher unknown)
- Art Out of Time, edited by Dan Nadel. Well Nadel is really cranking out some great stuff these days … including a feature on Renee French in the current issue of Print magazine. And this glorious looking art book, highlighting 30 (mostly) unknown American comics artists from the first 2/3rds of the 20th Century looks to be a must-have reference. (Crossing my fingers that the production values kick my ass. But if it's as nice as Nadel's zine, the Ganzfeld, i have nothing to worry about.)
Still want to mention some nice comments about Andy Runton's Owly series in a recent edition of the School Library Journal. Next time.
---
March 22, 2006 / More →
Continuing my critique of the Comics Journal #273, i was into the Firing Line section; there two more reviews in here, including a rather ambiguous one of our own Legend of Wild Man Fischer (by Dennis Eichhorn and J.R. WIlliams). But it's a review for John Porcellino's brilliant graphic novel Diary of a Mosquito Abatement Man … published by La Mano and originally serialized in John P.'s seminal mini-comic King Cat.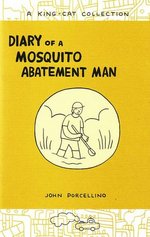 For the uninitiated, King Cat is one of the greatest comics ever, mini-comic or not. There is a humanism that runs deep in Porcellino's work; an appreciation for the natural world and a sense of place; a compassion for life. I'm reminded of Sand County Almanac, Ralph Waldo Emerson, Aaron Cometbus, Neil Young, and Pablo Picasso. And yet he so so uniquely singular. His book has been regularly coming out for longer than i've been reading indy comics (going on 20 years or so), and is up to issue #66, by my last count. If you have never read this work, you're really missing out.
Moving back to the review, which was a glowing review, and fairly interesting... until a throw-away comment turned the writer's argument upside down.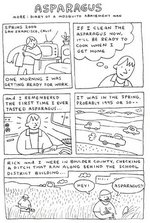 [Oooops! I have to run out for a happy-hour date with a couple pals, throw down a pint or two, and i'll continue then.]
Mmmm.... beer.
O.k, back to the Porcellino review. Near the very end of this review, the writer comments on how he feels that John P.'s intent was, that any sense of awe about life in general is misguided, but in this case only because of one isolated series of events in John's career killing bugs. The reviewer, Tim Kreider writes, "In this haunting coda Porcellino renounces the Kochalkan pose of wide-eyed-wonder-at-the-magic-of-the-world as so much self-deluding bullshit..."
At this point, i have to ask, who is the self-deluding bullshitter. It is here where Kreider betrays his grasp at the bulk of Porcellino 's work in his attempt to (for whatever personal reasons) bash on themes that both Porcellino and Kochalka share, and disrespect the work of James Kochalka.
Kochalka is indeed somewhat of an optimist. But a cursory glance at virtually any single issue of Porcellino's King Cat with yield an strikingly similar world view. That there is indeed magic in the every day.
To check myself, i just pulled out my run of King Cat comics, and the second issue i grabbed (#54) leads offf with a story titled "Secret World." The narrative is basically a wordless montage of images of John, his cat Kukok (named after former Bull's forward, the Eastern European player Tony Kukoc), and his pal Zak, as they coast through the day … romping through fields, walking to the city, drinking coffee and enjoying the moment. The last page has the only narration, which reads, "The secret world is the ordinary world. Buddha nature is always fully formed."
And John P/'s comics are FULL to brimming with this very "wide-eyed-wonder-at-the-magic-of-the-world." So to use a derogatory reference to the comics of James Kochalka, whose themes virtually mirror those of John Porcellino, in order to support a singular and specific observation by John P. in Diary of a Mosquito Abatement Man, is bullshit of the highest order.
Kreiner's hatred for Kochalka either outweighs his appreciation for John P., or else he's simply not very familiar with his oeuvre. Either way, it makes for a poor, biased and self-defeating review. So sad.
To wrap the TCJ series here, i'll just say that Dirk Deppey conducted an amazingly entertaining interview with Eddie Campbell, erudite and raconteur to the end. What impressed me most about this affair, was how well researched Dirk was in his preparation.
Prefacing the interview is an appreciation for Eddie's work in general, and a nice piece by Rob Vollmar titled "The Importance of Being Bacchus."
In the end, as always with the Comics Journal, any specific problems i have with this issue are super-ceded by the general excellence throughout.
NEXT: Second issue of Paper Cutter #2, and Comic Effect #44.
---
March 20, 2006 / More →
Cleaning up scanned pages in Photoshop of the digital From Hell files Eddie Campbell sent to me, made from master photocopies he made back when the book was first finished. (He's sold all of the originals long ago.) Most of you have probably heard the troubles we've had trying to get From Hell back into print, after a long long wait, so i'll spare you the details. (And if you haven't let me know, and maybe i'll post to the blog about it.) Needless to say, it's a real bummer that we don't have the book in print for the first crush of heat for Alan Moore, emanating from "V" For Vendetta.
Anyway, i working away and thought i tune into Meet the Press for a little background noise while i'm doing so. Wow, what an episode.
*** Spoiler Alert!!! Balls Found to Reside in "Journalist" Tim Russert's Scrotum After All***
First on was General George Casey. Now, i've seen Casey on television many times before, but it's been a while. He normally holds himself together pretty well. But lo and behold, Russert came out with guns blazing on this, the third anniversary of the Iraq war. He asked pointed questions, held his ground, and held Casey to account for rosey statements made in the past about how smashingly everything had been going.
What i witnessed would have been amusing, but given the implications, i'd have to say my emotions are now running a little more to the disturbed side. Casey was literally squirming in his seat, stuttering and talking in circles. At one point his eyes started nervously darting off-camera, as if looking for a safety line from one of his handlers. Very very surreal, and decidedly not a feel good moment. Read the transcript here.
(Second up was Congressman Jack Murtha, his balls firmly in place, continuing his plea to reassess the situation, redeploy the troops in the region, and figure out a better plan … ANY plan … before more American troops are needlessly endangered.)
And now onto more thoughts on the Comics Journal #273. Continuing a tour through the Newswatch section. (Last episode i mentioned the first entry in Newswatch, the very well considered and executed piece on creator contracts with corporations, and the like.) Moving along we have a short piece on the news that the Harveys are, once again, changing venue, from MoCCA to Baltimore. A decent piece, especially considering i don't recall reading anything remotely in depth about this anywhere else. The Harvey Award deserves some stability. Best of luck to Marc Nathan with this endeavor.
(For the record, while i agree that MoCCA had some problems, and the price tag was WAAAY too steep for attendees, and the sit-down meal a bit extravagant, i have to confess that i had a rip-roaring time the last time i attended, two years ago, hanging out with Chris [AdHouse] Pitzer and Robbie [iDW] Robbins. Maybe it had something to do with the really hot girls walking around with free samples of various liquor concoctions, paid for by some fancy vodka manufacturer. I think it was Ketel One or Skyy. They just kept coming around. It wasn't my fault. At any rate, needless to say i got a wee bit tipsy, and i must say i had more fun at this show than i've ever had at the faaar tooooo loooong Eisner Awards.)
Next in Newswatch, a piece on the struggling, yet "restructuring" Alias Comics Enterprises. It seemed a good set-the-record-straight type of affair, but to be honest, that was one story i haven't been keeping up on, so i'm hardly qualified to formulate a response.
And now we're up to Journal Datebook section, edited by Greg Stump. For those who don't read the Comics Journal, this is one reason (IF you consider yourself a hard-core comics lover) you should. Basically shorter news soundbites, you find more not-quite-mainstream news information here than most of the web-comics content combined. (Although to be fair, Tom Spurgeon is graciously filling this gap quite nicely at his superb Comics Reporter site, with similar type news items that no one else deems otherwise newsworthy.)
Headlines include: Robert White, Artist for Archie Comics, Dies; Luckovich Causes Stir with Iraq Cartoon; and (Zak) Sally Leaves Low (indy rock band) to Focus on Solo Endeavors. (More on Zak Sally's publishing imprint, La Mano next post, in my response to a review of John Porcellino's stellar Diary of a Mosquito Abatement Man graphic novel.)
In the Firing Line section (reviews) this issue, several entries, the first a really ambiguous slam/appreciation (?) about being a Neil Gaiman fan. Perplexing stuff. This is the sort pseudo-intellectually, poorly reasoned, ultimately meaningless type of dross that always seems to bring TCJ down a notch or two. Even if valid points might be made, the snarky attitude just serves to distance the reviewer from the reader.
Next in the Firing Line, Rich Kreiner offers ample evidence as to how good and why Frank King's sublime Gasoline Alley was so amazing. And believe me, it really really is spectacular work. Go pick up Drawn & Quarterly's first collection of the daily strips, titled Walt & Skeezix. (You can thank me later, it's really that good.)
(So tired... More to come.)
---