August 21, 2006 / More →
Ulana Zahajkewycz. Sketchbook drawings. Part 1.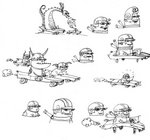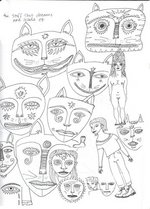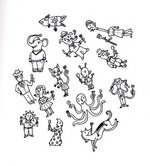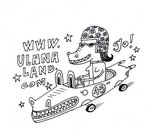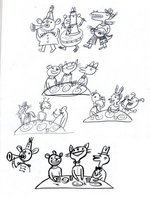 ---
August 19, 2006 / More →
• First, some pics snapped by Alex Robinson's fabulous wife Kristen, at the Eisner's this year.
Andy accepting his award for Best All Ages Comic, for Owly.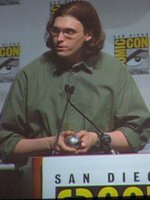 Aaron Renier running onstage to stop Chris Staros from accepting his award for him. (Aaron and myself showed up a little late, and Chris didn't realize we were there!)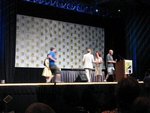 Aaron's drunkenly awesome acceptance speech, for Talent Deserving of Wider Recognition. (That's presenter Anina Bennett, standing behind him.)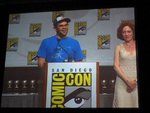 Rob Venditti, our one employee, and writer of our sci-fi book The Surrogates, enthusiastically enjoying the ceremony.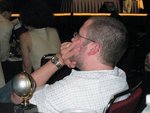 •Â And now for a few more books i've read, starting with editor Robyn Chapman's superb zine devoted to eye glasses and the people who wear them, Hey, Four-Eyes! Actually, this is the second issue, featuring a great wraparound cover by none other than Aaron Renier.
In addition to fine comics and/or drawings by Leela Corman, Cole Johnson, Nicole Georges, Aaron Renier, Kazmir Strzepek, Liz Prince, and Robyn Chapman, there are many stellar essays, overviews, and even a pictorial history of Antique Safety Glasses by Mr. Jeff Sharp. Plus, there's a totally unexpected, and yet fully deserved interview with zine legend Sean (Craphound) Tejaratchi.
If you wear glasses, you will LOVE this zine.
•Â Next up: the newest issue of POX, by the cheeky duo from Australia, Carol Wood and Susan Butcher. Their comics are almost zine-like in layout and attitude, channeling National Lampoon, classic undergrounds, and the Church of the Sub-Genius. Stories range in length from 1 - 5 pages, and combine bathroom humor with a scathing and astute intellect. These girls are VERY smart.
My favorite strip in this ish? Easy... Bizar-O-Christ. Best line, "Blessed am those who do, um, the opposite of all earthly things! Blessed am those who hate beauty! Blessed am those who love ugliness!" Sadly, i don't see a url listed, so i'm not sure you can track this down. Sorry.
•Â Ganges, by Kevin Huizenga. This is one of the volumes in the newish Fantagraphics/Coconino line called the Ignatz Collection. And it is so brilliant, that i almost thought my brain was going to explode while reading it. I've mentioned in a past blog how Kevin treads the razor's edge between formalism and commercially viable comics. What i may have forgotten to add to that, is that it's really actually irrelavant. His ability to convey the inner thoughts of humankind, to literally use comics to take us places in our hearts & minds, borders on shamanistic. I'm not kidding. Really. Stylistically, Huizenga hasn't particularly raised his own bar or anything, but that's because he's been a fully-realized cartoonist for years now.
Kevin Huizenga is arguably amongst a very small handful of North American cartoonists under 30 years old (i think he's under 30?) whom i would consider "world class." He's really that good.
•Â Finally, a nod to the newest volume of the Finnish anthology, Glomp #8. This anthology began modestly enough, and looked rather "normal" in earlier volumes. (We even did a little sub-distribution with them.) But with this newest volume, it seems as if the editors have been sucking down large bong loads of Kramer's Ergot for inspiration. Not a bad thing, actually. And this volume is ALL Finnish artists. Super duper cool stuff. (Images all ripped from their website, which has ordering info.) I picked my copy up at Portland's newest comics retailer, Floating World Comics. Thanks, Jason!
---
August 17, 2006 / More →
•Â Not sure if i've mentioned my current interns who've really been busting ass for me here in P-Town. Only my very first real intern, Carlos, has been of this much value to me, and it sure is nice; almost like having actual employees! (Carlos, by the way, is still doing production work and design for us, and occasionally shows up to work the Top Shelf table at a convention here or there. In fact, we had a blast together at the Emerald City Con earlier in the year.)
Intern Chris (Ross) was found through the Portland State University's Publishing Program, headed by Dennis Stovall, via Bernadette and Gretchen from Bakers Mark, whom i met at last Fall's Stumptown Comics Fest. (Whew.) Chris knows his way around a Macintosh like nobody's business, and is a production whiz. Man, if only i could do a Vulcan Mind Meld on this guy...
Anyway, Chris' last official intern gig for us is doing production on Austrian ink stud Nicolas Mahler's new book for Top Shelf, Lone Racer …Â the story of a down-on-his luck, has-been race car driver, who makes a move to come back in a newfound glory. Not unlike a shorter version of the classic James Garner race car flick Grand Prix.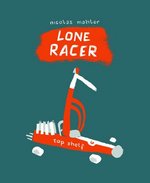 Chris rocks and will indeed be doing some more work for us, in freelance production and design.
My newest intern, Jacquelene, is the hardest working intern i've ever had, working full-time doing sales & publicity, events & promotions, and not a small amount of Personal Assistant stuff, like running errands, post-office runs, retail delivery, and what have you. (Which is particularly awesome, since this frees me up to have more time hanging with Carter. See fig. 001.)
Fig. 001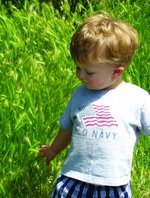 Jacq came to Top Shelf via an author signing we did with Jeffrey Brown, Renee French, and Alex Robinson during APE this year, at Joe Ferrara's classy comics shop Atlantis Fantasyworld, in Santa Cruz. Needless to say, as much help as she is, Jacq is one intern i don't want to see go anytime soon.
• Jacquelene's background is in music (managing bands, concert promotions, etc.), but a newfound love of comics has her considering comics as a possible career, so i'm introducing her to as much of the local comics world as possible. Last Friday we met up with Joe, James, and Randy (and intern Doug!) for a tour of the Oni Press offices, then off to lunch, where we discussed a (keeping fingers crossed) joint party we're hoping to throw here in Portland in the not too distant future. And as we usually do, we did a big ol' comics swap. I picked up some excellent new books, and actually already read a few, including:
•Â Scott Pilgrim vol. 3, by kid genius Brian Lee O'Malley. I think i've mentioned earlier volumes here on this blog, with large amounts of fanfare. In case you missed the memo … this is one of my favorite funny books ever! Brian's manga-influenced chops deliver on tasty young-punk fight-comics, which supposedly incorporates a lot of video game culture. I really wouldn't know, because i haven't played video games in almost 20 years, but it doesn't matter, because i'm hooked enough as it is. Scott Pilgrim is THE bomb, and O'Malley is THE complete package.
•Â Gray Horses, by Hope Larson. Hope Larson is Brian Lee O'Malley's wife, and the odds that two cartoonists of very high caliber hooked up like this are astronomical. And yet, it's true. Larson's first book, Salamander Dream (AdHouse Books) was a delicious little treat that hinted of great things to come, and Gray Horses continues that trend. Both books use the formal language of comics in a way that adds non-linear layers to her narrative, which require a little thought, and can benefit from a second read. There's a bit of metaphorical poetry happening here that is mysterious and magical. And her artwork is lush and beautiful. Hope is doing amazing work, and is one to keep your eye on.
•Â Next up, Banana Sunday, by Colleen Coover and Root Nibot. This is the most recent collection of material by one of my all-time favorite cartoonists. (I raved about Colleen's strip in the smashing new Tugboat Press anthology Paper Cutter #2, in a past blog too.) Banana Sunday is a delightful teenage romp of a book, that reads like an Afterschool Special as conceived by Joss Whedon. Talking monkeys, intrepid reporters, Alpha Female uber-bitches, and lots of flirting. Oni has this book labeled for 7 Years Old, plus, but honestly, i'd say it's skews more towards early teens. While not quite up to par with Coover's sublime Small Favors (very few things in life are, for that matter) Banana Sunday far exceeded my expectations... kudos Paul and Colleen for yet another fine piece of work.
•Â So much to catch up on, but for later. Including more reviews of recent reads, plus a few pictures of the Top Shelf crew at the Eisner Awards a few weeks ago (as taken by Kristen Siebecker), and some sketchbook pages from my old pal Ulana (ulanaland.com/) Zahajkewycz. Here's a Ulana teaser.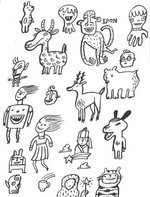 ---
August 11, 2006 / More →
PRESS RELEASE
Beginning Monday August 14, Tom Hart's Hutch Owen comic strip will run in the free daily METRO in New York and Boston.
Hutch Owen is an outsider and sort of philosopher of the street, crying out in a corrupt wilderness against the rampant greed, cynicism, and worship of the almighty dollar in today's culture. The "Hutch Owen" strip reflects the current American mood.
Born in Kingston, N.Y., Tom has been a popular underground/alternative cartoonist since the early '90s. He has been nominated for all major comic book awards … including the Harvey, the Eisner and the Ignatz … for his Hutch Owen books and "The Executive Hour" from his Hutch Owen: Unmarketable was recently re-published in the Best American Comics 2006.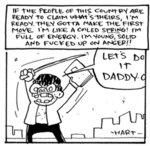 • Hutch Owen is one of my favorite characters that Chris and myself have EVER published. Wearing his bleeding heart on his sleeve, ever so intent on talking down The Man, Hutch is (warts and all) one of my heroes. …Brett
---
August 6, 2006 / More →
Renée French's work will be part of a group show called Telling Tales, curated by Dan (The Gansfeld) Nadel at the Adam Baumgold Gallery, from September 6 to October 14, 2006.
The gallery is located at 74 EAST 79th STREET, NEW YORK.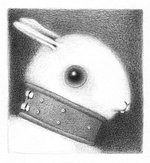 To see more of Renée's work go here.
Lifted straight from the website:
Adam Baumgold Gallery presents Telling Tales: Contemporary Women Cartoonists from September 5th through October 14th. Telling Tales is a subjective look at the last four decades of comics drawn by women.
Long a boys club, comics have, since the rise of the late 1960s underground, opened up to women as a medium like any other. Unfortunately, most current historical surveys are notable not only for the absence of women artists but also the absence of women as protagonists or even subjects in the medium itself. And while a gender-based exhibition might marginalize women even further, Telling Tales seems necessary as a slight corrective to the usual historical narrative.
The seventeen artists included here were chosen for their unique points of view and their idiosyncratic approaches to cartooning. All are free from the usual stylizations of comics, making stories that rely as much on line and mark as narrative and dialogue. Each artist has made an indelible mark on the medium, including Aline Kominsky Crumb, who helped revolutionize comics drawing with her scratchy line and brutal abstractions; Debbie Dreschler brings an unthinkably dense patterning to the medium; while Renée French's lush pencils convey meaning in each stroke. Younger artists, such as Lauren Weinstein and Amy Lockhart, have appropriated old genres, such as confessional and superhero comics, and used them for their own purposes. The larger story of these artists is swiftly evolving and Telling Tales will be just the first chapter of this long artistic narrative.
The gallery hours are Tuesday through Saturday 11:00 - 5:30 PM. For further information please contact Adam Baumgold at 212-861-7338 or abaumgold@aol.com
Telling Tales curator Dan Nadel is the proprietor of PictureBox, Inc., a Grammy Award-winning New York-based packaging and publishing company. PictureBox's recent releases include Nog a Dog (Marc Bell, editor) Me a Mound (Trenton Doyle Hancock) and The Ganzfeld. Nadel is also the author of Art Out of Time: Unknown Comic Visionaries 1900-1969 and is an assistant professor of illustration at Parsons The New School for Design.
---