The Underwater Welder has landed -- and it's a hit!
July 31, 2012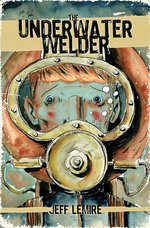 "Already a safe bet for the best graphic novel of the year." -- Multiversity Comics
"Absolutely brilliant... one of the highest quality pieces of work that I have read in a very long time." --Comicosity
"Underwater Welder has rocketed to the top of my Book of the Year list." -- Stumptown Trade Review
"My words cannot do justice to the beauty of Lemire's inks. There is literal and figurative depth here, but also subtlety when it is needed." -- Heroes Aren't Hard to Find
"Meditative and haunting." -- The Outhouse
"Rife with big universal ideas made strikingly personal... engaging, emotionally affecting and sometimes frightening." -- Talking Comic Books
"The magic that Lemire works with the story is astounding. The tightness of the plotting, the scripting, the pacing, the sheer impact of it all; everything is right." -- Geek Syndicate
If you haven't read The Underwater Welder, you can grab it today in print or digital. And if you're new to Jeff's work, don't miss his early gem Lost Dogs and his landmark opus Essex County.