ComicConComicConComicCon!!!
July 11, 2012
Hello, and Happy Summer, true believers! You trusty bartender writing in after a crazy long spell. I still haven't been entirely up-to-speed since the flood in my house back in the Spring. So yeah, here it is, ComicCon time and me not attending for the second year in a row. I certainly don't miss the heat & chaos, the sheer numbers, the Hollywood feeding frenzy, and that same dude dressed like Wolverine year in and year out, but at the same time, i sure wish i could spend some quality time with my friends who will be hanging at the Top Shelf booth, and the people close to me otherwise. The industry might be in a constant state of unease, but the community of comics is something that very few other entertainment industries can match. Meanwhile, i'll be spending this weekend with my kid Cfunk outside Eugene, Oregon, at the world's biggest hippy festival, The Oregon Country Fair.
Back to ComicCon, there is no dearth of Top Shelf related things-to-do this year. Our booth number is #1721. Here is a list of who will be in attendance, besides our own Top Shelf stalwarts Chris (@chrisstaros) Staros, Leigh (@leighwalton) Walton, Andy (@owly) Runton, and Chris (@chrisross) Ross. And if you're not already, follow Top Shelf on Twitter! @topshelfcomix
• Jeff (@JeffLemire) Lemire will be on hand primping his brand spanking new OGN Underwater Welder. Signing schedule follows below. We'll also have the newly designed and superbly remastered (by Chris Ross) edition of Jeff's raw, powerful debut, Lost Dogs for sale. The Beguiling will be selling original artwork, and Jeff will be selling this rad exclusive bookplate.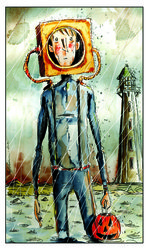 • Ed (@EdPiskor) Piskor will be signing copies of his hot new book Wizzywig. He too will have a sweet print available, what i believe to be an abandoned early concept for the Wizzywig cover.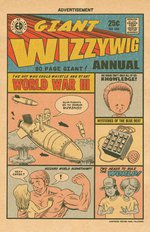 • James Kochalka's long overdue 4th volume of American Elf is out. And we'll be releasing the entire backlist of American Elf as part of our digital program, one year at a time.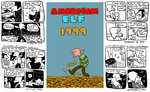 James writes, "I've been drawing my daily diary comic strip since October 1998. I just completed another sketchbook… so I stacked them all up rather dangerously to try and get a perspective on how much I've accomplished so far. That's like 4500 pages of comics."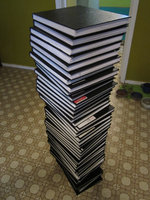 We'll have copies of SuperF*ckers, Johnny Boo, and Dragon Puncher on hand, and James will also have some of his incredibly neat Little Paintings for sale at the show.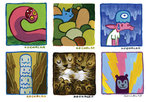 • Joseph (@JosephRemnant) Remnant will be around, signing copies of his gorgeously drawn Pekar book, Cleveland.
• Eddie Campbell makes his return to ComicCon, and, frankly, he's the main reason i personally am bummed i can't attend this year. I love this man. And his latest, The Lovely Horrible Stuff, is just one more testament to his incredible comics storytelling. His magnum opus pseudo-biograohical Alec is also a real life "must read," if you fancy yourself a true comics fan.
• It's a little surreal — and entirely awesome — to consider that our very first hire at Top Shelf, Robert (@robertvenditti) Venditti, was brought on to work in our warehouse doing pack & ship. Now he's a bonafide rock start comics writer! With his bitchin' new run on Valiant's new X-O Manowar, i'd wager he'll be signing comics at a Valiant booth, but i also suspect he'll be slinging copies of Homeland Directive, and Surrogates, with the cats at the Top Shelf booth.
(And if you haven't read it already, go back and read this feature interview with Rob and Tom Spurgeon.)
• Nate Powell will of course be doing his thing, charming the socks off of any passerby who happens by. When he's not on a panel, grabbing a bite to eat, signing copies of Any Empire & Swallow Me Whole, or going to the bathroom, chances are you can find him at the Top Shelf booth most of the show. Full schedule follows.
Oh yeah, the news broke today that Nate will be drawing our forthcoming memoir of Congressman John Lewis! There are a handful of preview mini-comics at the show... grab one if you can!
• Jeffrey Brown — world-reknowned for his Girlfriend Trilogy and the spoof/homage Incredible Change-Bots — will have a new mini-comic which chronicles the making of his first foray into feature film writing, Save The Date, from when producer Jordan Horowitz first emailed him, up to the film getting into the Sundance Film Festival. He'll have a little bit of original art (as will the Scott Eder Gallery at Booth #4515) and hand drawn trading cards, but will mostly be signing Darth Vader and Son.
• Matt (@mattkindt) Kindt will be busy at the show… pretty sure he'll be signing Mind Mgmt with Dark Horse, but also chillin' at the Top Shelf booth, signing copies of this & that and the other thing… all brilliant, of course.
• A little birdie told me that Craig Thompson will be around on Friday only, starting at 10:30 am.… He'll have this wicked beautiful Habibi print on hand, screen printed by Pete McCracken.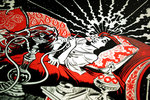 Finally, we also just announced some incredible news on digital releases. Big ups to our "digital guy" Chris Ross for making our digital program nothing less that a resounding success!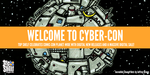 • JEFF LEMIRE (partial) SCHEDULE
- Wednesday, July 11
6:00-9:00 pm
- Thursday, July 12
2:30-4:30 pm
- Friday, July 13
10:00 am-12:00 pm
6:30-7:30 pm Spotlight on Jeff Lemire with Scott Snyder. (Room 5AB)
- Saturday, July 14
10:00 am-12:00 pm
2:00-4:00 pm
- Sunday, July 15
1:30-2:00 pm Top Shelf/Underwater Welder panel (Room 4)
• NATE POWELL SCHEDULE
- Thursday, July 12
3:00-4:00 pm "Graphic Novels: The Bookstore Crowd" panel with Alison Bechdel, Kate Beaton, Brecht Evens, Jennifer and Matt Holm, Jason Shiga. Moderated by Tom Spurgeon. (Room 23ABC)
- Friday, July 13
11:00am-12:00pm Signing at First Second Booth (#1323)
2:00-3:00 pm Nate Powell artist spotlight panel (Room 9)
- Saturday, July 14
1:00-2:00 pm-- Top Shelf panel (Room 4)
2:30-3:00 pm Signing at First Second Booth (#1323)
- Sunday, July 15
10:00 am-12:00 pm Signing at MacKids booth (?!) for Year Of The Beasts. (#1220)
12:15-1:45 pm CBLDF Benefit Rock Art Jam w/ Gabriel Ba and Fabio Moon. (Room 5AB)
• JEFFREY BROWN SCHEDULE