The Incredible LUCILLE by Ludovic Debeurme hits stores!
June 29, 2011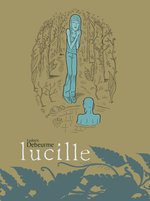 In the tradition of Blankets, Essex County, and Swallow Me Whole comes the next literary masterpiece from Top Shelf Productions: LUCILLE by Ludovic Debeurme.
With the book arriving in stores worldwide this week, we present a video introduction to Ludovic Debeurme and his masterful book LUCILLE, featuring interviews and musical performances by Ludovic as well as praise from fans like Joseph Ghosn, editorial director of GQ/Vogue/Glamour France, and Angouleme Grand Prix winner Charles Berberian (directed by Victor Claude):
**CLICK HERE TO SEE THE VIDEO AT YOUTUBE**
And I believe in LUCILLE so strongly -- as much as I do BLANKETS, ESSEX COUNTY, and SWALLOW ME WHOLE -- that I'm not going to rest until every fan of those books has a copy in their hands.
Your friend thru comics,
Chris Staros