hey kids... some news
May 28, 2011
Nate Powell has an art show going up for the month of June at The Owlery vegetarian restaurant — 212 S. Rogers St., Bloomington IN 47404. There'll be an opening on Friday, June 3rd from 10pm-1am. He'll be exhibiting work from Any Empire, The Silence Of Our Friends, and a few other things he's been doing from 2009 to now.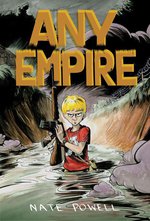 • Steve (Bughouse) Lafler just announced some excellent news! He's releasing NEW Dog Boy comics!! Head over to co2 Comics. Updates every Saturday. This is great news, to any cats out there who fancy themselves fans of mind-bending stories and terrific cartooning. (Or fans of Terence McKenna.) Steve describes it best himself:
"Dog Boy is pure Id, a lad with an enormous Golden Retriever head. He stands in for everyman and quests for the meaning of life, often with the aid of copious amounts of cheap beer. This singular series is wholly improvised by Lafler, with unscripted flights of fancy at turns running into dead ends, or courting the sublime."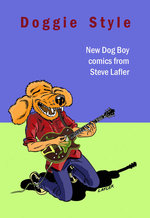 HIGHLY recommended!