Top Shelf Announces Capital Investment Deal
January 13, 2010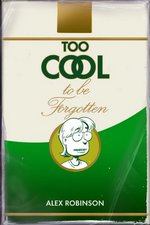 The first project slated for development by Likely Story is Alex Robinson's critically acclaimed Too Cool to Be Forgotten, named one of Amazon.com's Top Ten Graphic Novels of the Year and considered his best work to date.



Too Cool To Be Forgotten tells the story of a 40-something father of two who undergoes hypnosis therapy to quit smoking, only to transport back to 1985 and his formative years as a gangly, awkward teenager. Forced to live through his high school years with all the knowledge of his later life; uncertain whether he is destined to relive the mistakes of his past or if he has been given a second chance to get things right.



Publisher Chris Staros elaborates on the history of the deal:



"I've personally been friends with producer Anthony Bregman for over five years, and have looked up to him as a mentor and advisor over those many years. Every time we'd meet in New York or talk on the phone -- despite the 'two zeros' difference in our budgets and revenues -- we recognized the fact that we were kindred spirits, shepherding projects to the world that we simply believed in. Top Shelf and Likely Story [Bregman's production company] both put art before commerce, but also celebrate those magical moments when art meets commerce, and a project that was built from the ground up becomes a success.



"Two years ago, I casually mentioned that while I loved every aspect of running Top Shelf, Brett and I were starting to get worn out with being the 'personal banks' for the company, and by the stress that this brought during the rocky periods that publishing undergoes. Coincidentally, at that time, John S. Johnson, a long-time friend of Anthony's (and big fan of literary graphic novels) mentioned to him that he was toying with the idea of graphic novel publishing, to possibly make it a part of his other new media interests. Anthony suggested we all meet, and over the last couple of years, our mutual friendship, common interests and goals, and respect for each other developed to the point that we decided to work together as partners in the future of Top Shelf.



"Behind the scenes, Top Shelf has been presented with several investment proposals over the years, but most of them were either proposals to buy out the company, purchase a controlling interest, or use the name of the company to do something different than what we had built our reputation on. What we really wanted, and what we have now, are people who believe in what we do and want to help it grow without changing what we are doing. The deal that is in place now leaves Brett and me firmly in control of the company, and simply adds the capital, resources, and connections for new media and film that John and Anthony bring to the table.



"As a result, Anthony Bregman will get a first-look at all new Top Shelf publications for possible development in Hollywood, and John S. Johnson, as the primary financier of the deal, will become a member of the Board of Directors (along with Brett and I), and the key link to all the online and other new media applications for the Top Shelf line."



§§



TOP SHELF PRODUCTIONS is the literary graphic novel and comics publisher best known for its ability to discover and showcase the vanguard of the comics scene. Founded by Co-Publisher Brett Warnock in 1995, and partnered by Co-Publisher Chris Staros in 1997, Top Shelf has produced over two hundred graphic novels and comics that have helped to revitalize interest in comics as a literary art form. Most notably, Alan Moore's FROM HELL, LOST GIRLS, and THE LEAGUE OF EXTRAORDINARY GENTLEMEN; Craig Thompson's BLANKETS; Andy Runton's OWLY; Robert Venditti & Brett Weldele's THE SURROGATES, Jeff Lemire's ESSEX COUNTY, and Jeffrey Brown's CLUMSY & UNLIKELY, all of which have garnered critical accolades from the likes of Time Magazine, USA Today, Entertainment Weekly, People Magazine, Publishers Weekly, The New Yorker, and the New York Times Book Review.



JOHN S. JOHNSON is the founder and chairperson of the Pacific Foundation, which funds innovation in the arts, environment and social justice. He is co-founder of buzzfeed.com, a startup company that tracks the viral web in real time. Johnson conceived and founded, EYEBEAM, a MacArthur and NEA funded, pioneering art and technology center for hackers, artists, and educators that facilitates workshops for the general public, artist residencies and research fellowships. He is also the founder of The Screenwriters Colony, an all-expense-paid retreat and workshop on the island of Nantucket that offers promising screenwriters in the early stage of their careers a place to work and live under the guidance of established film professionals. Johnson is executive director of the Harmony Institute, a research center studying the application of behavioral science to mainstream media. Johnson is a Henry Crown Fellow at the Aspen Institute.



ANTHONY BREGMAN, producer, founded the New York City-based production company Likely Story in the fall of 2006. Bregman and Likely Story have two films premiering at the Sundance Film Festival this month: PLEASE GIVE, written and directed by Nicole Holofcener (starring Catherine Keener, Rebecca Hall, Amanda Peet and Oliver Platt); and THE EXTRA MAN, written and directed by Bob Pulcini and Shari Springer Berman (starring Kevin Kline, Paul Dano, John C. Reilly, and Katie Holmes). Bregman produced SYNECDOCHE, NEW YORK, written and directed by Charlie Kaufman, which Roger Ebert recently named "The best film of the decade"; SLEEP DEALER, written and directed by Alex Rivera, which won prizes at the 2008 Sundance and Berlin Film Festivals; the Academy Award-winning ETERNAL SUNSHINE OF THE SPOTLESS MIND, FRIENDS WITH MONEY, THUMBSUCKER, THE EX, LOVELY & AMAZING, HUMAN NATURE, THE TAO OF STEVE, CARRIERS, LUMINOUS MOTION, and LOVE GOD, the world's first digital film. Previous to Likely Story, Bregman was a partner at This is That for four years, and spent ten years as head of production at Good Machine, where he supervised the production and post production of over thirty feature films, including SENSE & SENSIBILITY, EAT DRINK MAN WOMAN, WALKING & TALKING, WHAT HAPPENED WAS..., THE WEDDING BANQUET, and SAFE. Bregman also teaches producing at Columbia University's Graduate Film School, and is on the board of the IFP.