THE SURROGATES TRAILER IS LIVE!
May 22, 2009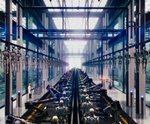 In a world where human interaction has been replaced with remote-linked robotic alter egos, The Surrogates follows Detective Harvey Greer in pursuit of a techno-terrorist bent on returning society to a time when people lived their lives instead of merely experiencing them.
Venditti and Weldele, fresh off the success of the original Surrogates graphic novel, are about to release a follow-up that delves deeper into the thrilling sci-fi/noir world they've created. Entitled The Surrogates: Flesh and Bone, the upcoming book takes place 15 years before the original story and explores the very early days of surrogates in human society -- and one very inconvenient murder that could destroy everything.
Top Shelf will debut The Surrogates: Flesh and Bone in July, along with a new edition of The Surrogates (Volume 1) and a special deluxe hardcover collecting both graphic novels in a single volume. Hats off to Robert Venditti and Brett Weldele, check out the trailer below, and on September 25, we'll all see their vision come to life!