TEN YEARS OF AMERICAN ELF! IT'S A KOCHALKAPALOOZA!
October 27, 2008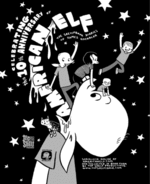 It's a staggering achievement, spanning two presidents, the birth of two children, the 9/11 attacks, and countless rock shows, comic conventions, spousal arguments, and existential crises. As James wrote on AmericanElf.com, reflecting on the strip: "it utterly transformed my life. I've reached a level of synergy where my life is my art and my art is my life... It's not that my life so amazingly special, but my life is made amazingly special by the strip. And still it stays mundane. It's almost a paradox, the mundane is made fantastic and the fantastic is revealed as mundane." In that sense, AMERICAN ELF is not only a pioneering work in the field of diary cartooning but also a forerunner of the modern blogging phenomenon!
Known for his smooth minimalist aesthetic as well as his outspoken creative philosophy and rock music career, the self-proclaimed James Kochalka Superstar has developed a cult following and inspired countless cartoonists through his comics and teaching. Some of that broad influence will be on display in the coming weeks, as AmericanElf.com features tribute sketches from superstar cartoonists including Tony Millionaire (Maakies), Chris Onstad (Achewood), Bryan Lee O'Malley (Scott Pilgrim), Alison Bechdel (Fun Home), Andy Runton (Owly), CF (Powr Mastrs), and many more!
Also, Vermont's SEVEN DAYS newspaper just celebrated its hometown hero with a fantastic short documentary that vividly shows how life and art blend together in the Kochalka household!
There's exciting news for AMERICAN ELF in print as well. BOOK THREE of the collected AMERICAN ELF, fresh from its debut at Small Press Expo, will be arriving in stores in November! This full-color volume collects all strips from January 1, 2006 to December 31, 2007, plus bonus material. In these years, little Eli Kochalka grows from an adorable toddler to a full-on partner in crime, while the whole family celebrates the arrival of baby Oliver! Don't miss the third monumental installment of what USA TODAY's Whitney Matheson calls an "influential must-read"!
Finally, the French edition of AMERICAN ELF BOOK ONE was just declared an official selection of the 2009 Angoulême International Comics Festival! Congratulations, James! This is indeed a high honor.
For more information on all things Kochalka, visit the Top Shelf Kochalka zone and his web site at www.AmericanElf.com.