TOP SHELF INCREASES WORK FORCE BY 33%!
August 27, 2007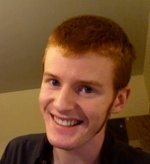 News of this addition comes on the heels of Top Shelf's 10-year anniversary, as the company celebrates a decade of publishing sophisticated and high-quality graphic novels. For publishers Chris Staros and Brett Warnock, the time is right to expand the Top Shelf family and bring Walton aboard. "The timing couldn't be better bringing on Leigh," says publisher Brett Warnock. "There is stiff competition finding an audience for each and every book that we produce. And as we grow our presence and relationship within the book trade, our need for another pair of hands on all things 'PR' is at an all-time high. Leigh's enthusiasm is palpable, and his ability to get things done will fit right in with the way Chris, Rob and I currently operate. I'm excited to work with him and have him help take Top Shelf to a new level."



After graduating from Reed College, Walton began interning at Top Shelf's Portland office, where he quickly became a jack-of-all-trades (the job description of everyone at Top Shelf). His exuberant salesmanship turned heads at New York's MoCCA Fest and the San Diego Comic-Con, where Warnock and Staros officially welcomed him to the Top Shelf crew. "I knew the first time we met for coffee that Leigh really knew his comics," continued Brett Warnock. "I wondered if he might be the person I'd been looking for and hoping desperately to find. At Comic-Con, where Leigh helped man the Top Shelf booths, (Top Shelf employee) Robert Venditti came up to me and said, 'Let's keep this guy.'"



A lifelong comics fan and self-described "evangelist" of the form, Walton brings more to the table than missionary zeal. "When I was a student at Reed, I had the privilege of running the school's comic book reading room," he says. "It was a fantastic experience: I got to play librarian, critic, editor, retailer, and carnival barker all at the same time." Walton credits the Reed program, now in its fourth decade, with cementing his love of comics and teaching him the rudimentary ins and outs of the industry (Gina Gagliano of First Second Books is a fellow alum). "Best of all," he adds, "I was able to introduce new readers to some of my favorite books. Now I can continue to do just that in my new position at Top Shelf. I've loved their books for many years, and I look forward to sharing that love with readers old and new!"