PUBLISHING SCHEDULE
February 16, 2010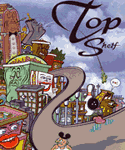 2010 (PLANNED SO FAR -- SUBJECT TO CHANGE)
Jan ALEC: THE YEARS HAVE PANTS (A LIFE-SIZE OMNIBUS) by Eddie Campbell

Jan ALEC: THE YEARS HAVE PANTS (HARDCOVER EDITION) by Eddie Campbell

Jan DODGEM LOGIC #1 Edited by Alan Moore (Mad Love/Knockabout) (TSP distro)



Feb WORLD WAR 3 ILLUSTRATED # 40: WHAT WE WANT (WW3) (TSP distro)



Mar SUPERF*CKERS by James Kochalka

Mar SUPER SPY: THE LOST DOSSIERS by Matt Kindt

Mar DODGEM LOGIC #2 Edited by Alan Moore (Mad Love/Knockabout) (TSP distro)

Mar 2nd Printing of THE LEAGUE OF EXTRAORDINARY GENTLEMAN (VOL III): CENTURY #1 (OF 3) ("1910") by Alan Moore & Kevin O'Neill



THE SWEDISH INVASION:

Apr HEY PRINCESS by Mats Jonsson

Apr THE 120 DAYS OF SIMON by Simon Gardenfors

Apr THE TROLL KING by Kolbeinn Karlsson

Apr FROM THE SHADOW OF THE NORTHERN LIGHTS (VOL 2) Edited by Johannes Klenell (Galago)(Distro)

Apr SWEDISH COMICS HISTORY by Fredrik Strömberg (Distro)



May OWLY & FRIENDS - 2010 (FREE COMIC BOOK DAY) by Andy Runton, Christian Slade, & James Kochalka

+

May MOVING PICTURES by Kathryn & Stuart Immonen

May UNDELETED SCENES by Jeffrey Brown

May BB WOLF & THE 3 LP'S by J.D. Arnold & Rich Koslowski

May 2nd Printing of THREE FINGERS by Rich Koslowski

May GREETINGS FROM CARTOONIA by Stripburger (Distro)



Jun THE PLAYWRIGHT by Daren White & Eddie Campbell

Jun JOHNNY BOO (BOOK 4): THE MEAN LITTLE BOY by James Kochalka

Jun 2nd Printing of SWALLOW ME WHOLE by Nate Powell



Jul AX (VOL 1): A COLLECTION OF ALTERNATIVE MANGA Edited by Sean Michael Wilson

Jul DRAGON PUNCHER (BOOK 1) by James Kochalka

Jul 2nd Printing of LOST GIRLS (Single-Volume Edition) by Moore & Gebbie



Aug FINGER PRINTS by Will Dinski

Aug CHESTER 5000-XYV by Jessica Fink

Aug 3rd Printing of TRICKED (with all-new design) by Alex Robinson



Sep THE HOMELAND DIRECTIVE by Robert Venditti & Mike Huddleston

Sep 11th Printing of BLANKETS by Craig Thompson

Sep 11th Printing of FROM HELL by Alan Moore & Eddie Campbell



Oct INCREDIBLE CHANGE-BOTS TWO by Jeffrey Brown



Nov WE CAN FIX IT by Jessica Fink

Nov NIGHT ANIMALS by Brecht Evens



End of Year+ THE LEAGUE OF EXTRAORDINARY GENTLEMAN (VOL III): CENTURY #2 (OF 3) by Alan Moore & Kevin O'Neill

End of Year+ THE MARSHAL LAW OMNIBUS by Pat Mills & Kevin O'Neill

End of Year+ THE COLLECTED BOJEFFRIES SAGA by Alan Moore & Steve Parkhouse



FUTURE RELEASES (2011+)


ALL AGES


KORGI (BOOK 3): A HOLLOW BEGINNING by Christian Slade

MADDY KETTLE (BOOK 1): THE ADVENTURE OF THE THIMBLEWITCH by Eric Orchard

PIRATE PENGUIN VS NINJA CHICKEN (VOL 1): TROUBLEMS WITH FRENEMIES by Ray Friesen

OKIE DOKIE DONUTS (BOOK 1) by Chris Eliopoulos

The Next OWLY by Andy Runton

The Next JOHNNY BOO by James Kochalka

The Next YAM by Corey Barba

2nd Printing of New Edition of MONKEY VS. ROBOT (VOL 1) by Kochalka

… and several other projects still under wraps!

MATURE


THE LEAGUE OF EXTRAORDINARY GENTLEMAN (VOL III): CENTURY #3 (OF 3) by Alan Moore & Kevin O'Neill

THE MOON & SERPENT BUMPER BOOK OF MAGIC by Alan Moore, Steve Moore, and various artists (A Deluxe Grimoire -- for Kids!)

BACCHUS (TWO-VOLUME OMNIBUS) by Eddie Campbell

KISSYPOO GARDEN by Craig Thompson

THE UNDERWATER WELDER by Jeff Lemire

LUCILLE by Ludovic Debeurme

SUPER COMPUTER by Matt Kindt

SUPER NATURAL by Matt Kindt

INFINITE KUNG-FU by Kagan McLeod

LIAR'S KISS by Eric Skillman & Jhomar Soriano

THE STORY OF MY TITS by Jennifer Hayden

JUNCTION TRUE by Ray Fawkes & Vince Locke

CRUM BUMS by Brian Ralph

HEY, MISTER: COME HELL OR HIGHWATER PANTS by Sickman-Garner

PINOKIO by Kurt Wolfgang

VENUS: THE SECRET COMICS OF ARTHUR HOLLY by Dylan Horrocks

BRASS TACKS by Vincent Stall

THE SOAP LADY (New Softcover Edition) by Renee French

2nd printing of THE TICKING by Renee French

The Next TOP SHELF SEASONAL SAMPLER/CATALOG

The Next SULK by Jeffrey Brown

The Next AMERICAN ELF by James Kochalka

The Next SUPER F*CKERS by James Kochalka

The Next TONOHARU by Lars Martinson

… and several other projects still under wraps!

PREVIOUS YEARS:



2009


Jan JOHNNY BOO (BOOK 2): TWINKLE POWER by James Kochalka

Feb 9th Printing of BLANKETS by Craig Thompson

Mar WORLD WAR 3 ILLUSTRATED #39 Edited by Peter Kuper

Apr SECOND THOUGHTS by Niklas Asker

May THE LEAGUE OF EXTRAORDINARY GENTLEMAN (VOL III): CENTURY "1910" by Alan Moore & Kevin O'Neill

May OWLY & FRIENDS - 2009 (FREE COMIC BOOK DAY by Andy Runton, Christian Slade, & James Kochalka

May 3rd Printing of OWLY (VOL 2): JUST A LITTLE BLUE by Andy Runton

May 6th Printing of CLUMSY by Jeffrey Brown

May 4th Printing of UNLIKELY by Jeffrey Brown

Jun FAR ARDEN by Kevin Cannon

Jun WELCOME TO FOREST ISLAND by Bwana Spoons

Jun VOICE OF THE FIRE (Paperback Edition) by Alan Moore

Jun AWESOME II: AWESOMER Edited by Indy Spinner Rack's Charlito and Mr. Phil

Jul THE SURROGATES (VOL 2): FLESH & BONE by Venditti & Weldele -- Our 200th Publication!

Jul THE SURROGATES (SPECIAL HARDCOVER EDITION - VOLS 1 & 2) by Robert Venditti and Brett Weldele

Jul 3rd Printing of THE SURROGATES (VOL 1) by Venditti and Weldele (New Cover)

Jul LOST GIRLS (SINGLE-VOLUME HARDCOVER EDITION) by Alan Moore & Melinda Gebbie

Jul 2nd Run of OWLY PLUSH TOY by Andy Runton

Jul 3rd Printing of CARNET DE VOYAGE by Craig Thompson

Aug THE COMPLETE ESSEX COUNTY by Jeff Lemire

Aug THE COMPLETE ESSEX COUNTY (HARDCOVER EDITION) by J. Lemire

Aug JOHNNY BOO (BOOK 3): HAPPY APPLES by James Kochalka

Aug 4th Printing of OWLY (VOL 1): THE WAY HOME by Andy Runton

Aug 3rd Printing of OWLY (VOL 3): FLYING LESSONS by Andy Runton

Aug 2nd Printing of OWLY (VOL 4): A TIME TO BE BRAVE by Andy Runton

Sep 2nd Printing of KORGI (BOOK 1): SPROUTING WINGS! by Christian Slade

Oct SULK (VOL 3): THE KIND OF STRENGTH THAT COMES FROM MADNESS by Jeffrey Brown

Oct COMIC DIORAMA by Grant Reynolds

Oct 10th Printing of FROM HELL by Alan Moore & Eddie Campbell

Oct 10th Printing of BLANKETS by Craig Thompson

Dec DRAWING BETWEEN THE LINES (DVD) by Bruce Parsons

Dec DIGITAL ELF (MUSIC CD) by James Kochalka Superstar



2008


Jan OWLY (VOL 4): A TIME TO BE BRAVE by Andy Runton

Jan OWLY (VOL 4): A TIME TO BE BRAVE (Hardcover) by Andy Runton

Jan 3rd Printing of OWLY (VOL 1): THE WAY HOME by Andy Runton

Jan OWLY (VOL 1): THE WAY HOME (Hardcover) by Andy Runton

Feb DISCOVERED Anthology Edited by John Lowe (distribution)

Mar HIERONYMUS B. by Ulf K.

Mar The UK/EU release of LOST GIRLS by Alan Moore & Melinda Gebbie

Apr THAT SALTY AIR by Tim Sievert

Apr TONOHARU: PART ONE by Lars Martinson

May DELAYED REPLAYS by Liz Prince

May 24x2 by David Chelsea

May 2nd Printing of THE SURROGATES by Robert Venditti & Brett Weldele

May THE TOP SHELF SEASONAL SAMPLER -- 2008 Edited by Chris Staros & Brett Warnock

May OWLY & FRIENDS (FREE COMIC BOOK DAY BOOK) by Runton, Slade, Kochalka and Barber

Jun JOHNNY BOO (BOOK 1): THE BEST LITTLE GHOST IN THE WORLD by Kochalka

Jun 2nd Printing of ESSEX COUNTY (VOL 1): TALES FROM THE FARM by Jeff Lemire

Jun 2nd Printing of SUPER SPY by Matt Kindt

Jun 2nd Printing of WILL YOU STILL LOVE ME IF I WET THE BED? by Liz Prince

Jul TOO COOL TO BE FORGOTTEN by Alex Robinson

Jul YAM by Corey Barba

JUl 2nd Printing of PINKY & STINKY by James Kochalka

Aug KORGI (BOOK 2): THE COSMIC COLLECTOR by Christian Slade

Aug HOW TO LOVE by Actus Independent Comics

Aug 2nd Printing of TONOHARU: PART ONE by Lars Martinson (distributed)

Sep ESSEX COUNTY (VOL 3): THE COUNTRY NURSE by Jeff Lemire

Sep FROM THE SHADOW OF THE NORTHERN LIGHTS Edited by Johannes Klenell (Galago/Sweden)

Oct OWLY (VOL 5): TINY TALES by Andy Runton

Oct SULK (VOL 1): BIGHEAD AND FRIENDS by Jeffrey Brown

Oct THE MAN WHO LOVED BREASTS by Robert Goodin

Oct 9th Printing of FROM HELL by Alan Moore & Eddie Campbell

Nov SWALLOW ME WHOLE by Nate Powell

Nov VEEPS by Bill Kelter & Wayne Shellabarger

Nov AMERICAN ELF (BOOK 3) by James Kochalka

Dec SULK (VOL 2): DEADLY AWESOME by Jeffrey Brown



2007


Jan 3rd Printing of LOST GIRLS by Alan Moore & Melinda Gebbie

Jan LONE RACER by Nicolas Mahler

Jan REGARDS FROM SERBIA by Aleksandar Zograf

Jan ARE WE FEELING SAFE AGAIN? (TH)INK by Keith Knight (distribution)

Feb AMERICAN ELF (BOOK 2) by James Kochalka

Feb OUR MOST BELOVED by James Kochalka Superstar (distribution)

Feb SPREAD YOUR EVIL WINGS AND FLY by James Kochalka Superstar (distribution)

Mar ESSEX COUNTY (VOL 1): TALES FROM THE FARM by Jeff Lemire

Mar FEEBLE ATTEMPTS by Jeffrey Brown

Mar PENCIL FIGHT #3 Edited by Bwana Spoons

Apr KORGI (BOOK1): SPROUTING WINGS! by Christian Slade

Apr KORGI (BOOK1): SPROUTING WINGS! (Hardcover) by Christian Slade

Apr 2nd Printing of OWLY (VOL 3): FLYING LESSONS by Andy Runton

May OWLY: HELPING HANDS (FREE COMIC BOOK DAY BOOK) by Andy Runton & Christian Slade

May TOP SHELF SEASONAL SAMPLER -- 2007

May TOP SHELF 10TH ANNIVERSARY POSTER by Ulana Zahajkewycz

May MICROGRAPHICA by Renée French

May SUPER F*CKERS #4 by James Kochalka

May 3rd Printing of UNLIKELY by Jeffrey Brown

May 8th Printing of BLANKETS by Craig Thompson

May 8th Printing of FROM HELL by Alan Moore & Eddie Campbell

Jun FOX BUNNY FUNNY by Andy Hartzell

Jun DEATH BY CHOCOLATE: REDUX by David Yurkovich

Jun DEE VEE 2007 Edited by Daren White

Jul INCREDIBLE CHANGE-BOTS by Jeffrey Brown

Jul INCREDIBLE CHANGE-BOTS (Hardcover) by Jeffrey Brown

Jul BLACK GHOST APPLE FACTORY by Jeremy Tinder

Aug SUPER SPY by Matt Kindt

Aug SUPER SPY (Hardcover) by Matt Kindt

Sep ESSEX COUNTY (VOL 2): GHOST STORIES by Jeff Lemire

Sep ELFWORLD (VOL 1) Edited by Edited by François Vigneault & Compiled by Jeffrey Brown

Sep 2nd Printing of AEIOU by Jeffrey Brown

Oct YEARBOOK STORIES: 1976-1978 by Chris Staros (with Bo Hampton & Rich Tommaso)

Oct TROUBLETOWN TOLD YOU SO by Lloyd Dangle (distribution)

Nov LOWER REGIONS by Alex Robinson

Nov WORLD WAR 3 ILLUSTRATED # 38: FACTS ON THE GROUND



2006


Jan OWLY (VOL 3): FLYING LESSONS by Andy Runton

Jan THE SURROGATES #4 (of 5) by Robert Venditti & Brett Weldele

Jan 6th Printing of BLANKETS by Craig Thompson

Jan 2nd Printing of CARNET DE VOYAGE by Craig Thompson

Jan 2nd Printing of TRICKED by Alex Robinson

Feb COFFEE & DONUTS by Max Estes

Feb 2nd Printing of OWLY (VOL 1): THE WAY HOME by Andy Runton

Feb 4th Printing of BOX OFFICE POISON by Alex Robinson

Mar THE SURROGATES #5 (of 5) by Robert Venditti & Brett Weldele

Mar OWLY T-SHIRTS by Andy Runton

Apr THE TICKING by Renée French

Apr EVERY GIRL IS THE END OF THE WORLD FOR ME by Jeffrey Brown

Apr A DISEASE OF LANGUAGE by Moore & Campbell (distribution)

May OWLY: BREAKIN' THE ICE (FREE COMIC BOOK DAY) by Andy Runton

May 110 PER¢ by Tony Consiglio

May CRY YOURSELF TO SLEEP by Jeremy Tinder -- Our 150th Publication!

Jun SUPER F*CKERS #3 by James Kochalka

Jun TALES OF WOODSMAN PETE by Lilli Carré

Jul I AM GOING TO BE SMALL by Jeffrey Brown

Jul I AM GOING TO BE SMALL (Hardcover) by Jeffrey Brown

Jul THE SURROGATES by Robert Venditti & Brett Weldele

Aug LOST GIRLS by Alan Moore & Melinda Gebbie

Aug OWLY PLUSH TOY by Andy Runton (Top Shelf's First Toy!)

Sep 2nd Printing of OWLY (VOL 2): JUST A LITTLE BLUE by Andy Runton

Sep 5th Printing of CLUMSY by Jeffrey Brown

Sep 7th Printing of BLANKETS by Craig Thompson

Oct 2nd Printing of LOST GIRLS by Alan Moore & Melinda Gebbie

Oct 7th Printing of FROM HELL by Alan Moore & Eddie Campbell

Oct HONEY TALKS by Stripburger

Oct SCIENCE Anthology Edited by John Lowe (distribution)

Nov PLEASE RELEASE by Nate Powell

Nov WORLD WAR 3 ILLUSTRATED # 37: UNNATURAL DISASTERS



2005


Feb OWLY (VOL 2): JUST A LITTLE BLUE by Andy Runton

Feb MINIBURGER: DIRTY DOZEN by Stripburger (distribution)

Feb 5th Printing of BLANKETS by Craig Thompson

Feb 3rd Printing of CREATURE TECH by Doug TenNapel

Feb 6th Printing of GOOD-BYE, CHUNKY RICE by Craig Thompson

Mar MINISULK by Jeffrey Brown

Mar HELLO, AGAIN by Max Estes

Apr MOSQUITO by Dan James

Apr BUGHOUSE (VOL 3): SCALAWAG by Steve Lafler

May SUPER F*CKERS #1 by James Kochalka

May New Edition of MONKEY VS. ROBOT (VOL 1) by James Kochalka

May OWLY: SPLASHIN' AROUND (FREE COMIC BOOK DAY BOOK) by Andy Runton

Jun AEIOU by Jeffrey Brown

Jun PENCIL FIGHT #2 Edited by Bwana Spoons

Jun 2nd Printing of SAME DIFFERENCE by Derek Kirk Kim

Jul THE SURROGATES #1 (of 5) by Robert Venditti & Brett Weldele

Jul THE KING by Rich Koslowski

Jul THE KING (Hardcover) by Rich Koslowski

Jul 4th Printing of CLUMSY by Jeffrey Brown

Jul 2nd Printing of UNLIKELY by Jeffrey Brown

Aug TRICKED by Alex Robinson

Aug TRICKED (Hardcover) by Alex Robinson

Aug New Edition of BOX OFFICE POISON by Alex Robinson

Aug BOX OFFICE POISON (Hardcover) by Alex Robinson

Aug SPIRAL-BOUND by Aaron Renier

Sep WILL YOU STILL LOVE ME IF I WET THE BED? by Liz Prince

Sep THE SURROGATES #2 (of 5) by Robert Venditti & Brett Weldele

Sep SENSES: The SCAD Anthology Edited by John Lowe (distribution)

Sep WORLD WAR 3 ILLUSTRATED # 36: NEO CONS

Oct SUPER F*CKERS #2 by James Kochalka

Oct CONVERSATION #2 by James Kochalka & Jeffrey Brown

Oct 2nd Printing of BE A MAN by Jeffrey Brown

Nov COMIC BOOK ARTIST (VOL 2) #6: WILL EISNER TRIBUTE

Nov THE SURROGATES #3 (of 5) by Robert Venditti & Brett Weldele



2004


Jan VOICE OF THE FIRE by Alan Moore & José Villarubia, Intro by Gaiman

Jan VOICE OF THE FIRE (Signed Edition)

Jan THE OCTOPI & THE OCEAN by Dan James

Jan HAPPY #4: FEMALE by Josh Simmons

Feb BE A MAN by Jeffrey Brown -- Our 100th Publication!

Feb THE SKETCHBOOK DIARIES (VOL 4) by James Kochalka

Feb JENNIFER DAYDREAMER #2: ANNA & EVA by Jennifer Daydreamer

Feb UPSIDE DOWN by Tobias Tak (distribution)

Mar 3rd Printing of BLANKETS by Craig Thompson

Mar 5th Printing of GOOD-BYE, CHUNKY RICE by Craig Thompson

Mar GOOD-BYE CHUNKY RICE (Hardcover)

Mar VAN HELSING'S NIGHT OFF by Nicolas Mahler

Mar WARBURGER by Stripburger

Mar COMIC BOOK ARTIST (VOL 2) #3 Edited by Jon B. Cooke

Apr 6th Printing of FROM HELL by Moore & Campbell

Apr 3rd Printing of CLUMSY by Jeffrey Brown

Apr TROGLODYTES by Marcel Ruijters

Apr TYPEWRITER by David Youngblood (distribution)

Apr THINGS ARE MEANING LESS by Al Burian (distribution)

May THE MIRROR OF LOVE by Alan Moore & José Villarrubia

May THE MIRROR OF LOVE -- SIGNED EDITION (Web Exclusive)

May SAME DIFFERENCE & OTHER STORIES by Derek Kirk Kim

May ALL FLEE! by Gavin Burrows and Simon Gane

May DANG! by Martin Cendreda

May EPOXY by John Pham

Jun TOP SHELF TALES: FREE COMIC BOOK DAY COMIC BOOK

Jun 2 SISTERS by Matt Kindt

Jun LESS THAN HEROES by David Yurkovich

Jun WORLD WAR 3 ILLUSTRATED # 35: LIFE DURING WARTIME

Jun BOY TROUBLE: 10TH ANNIVERSARY ISSUE

Jun HAPPY PACK by Josh Simmons (Pack)

Jul CARNET DE VOYAGE by Craig Thompson

Jul AMERICAN ELF by James Kochalka

Jul AMERICAN ELF -- HARDCOVER EDITION (Web Exclusive)

Jul CONVERSATIONS #1: JAMES KOCHALKA & CRAIG THOMPSON

Jul BLANKETS SOUNDTRACK by Craig Thompson & Tracker

Aug GRAMPA & JULIE: SHARK HUNTERS by Jef Czekaj

Aug THE LEGEND OF WILD MAN FISCHER by Eichhorn & Williams

Sep OWLY (VOL 1): THE WAY HOME by Andy Runton

Sep DEAD HERRING COMICS by Actus

Oct BIGHEAD by Jeffrey Brown

Oct GUTSMAN by Erik Kriek

Oct COMIC BOOK ARTIST (V2) #4 Edited by Jon B. Cooke

Dec HUTCH OWEN (VOL 2): UNMARKETABLE by Tom Hart

Dec COMIC BOOK ARTIST (V2) #5 Edited by Jon B. Cooke



2003

Jan PISTOLWHIP (VOL 2): THE YELLOW MENACE by Matt Kindt & Jason Hall

Jan JENNIFER DAYDREAMER #1: OLIVER by Jennifer Daydreamer

Jan EGOMANIA #2: ALAN MOORE by Eddie Campbell

Feb 2nd Printing of CLUMSY by Jeffrey Brown

Feb MAGIC BOY & THE ROBOT ELF by James Kochalka

Feb 2nd Printing of CREATURE TECH by Doug TenNapel

Feb DEAR JULIA, SHORT FILM Directed by Alistair Banks Griffin (distribution)

Mar BEACH SAFARI by Mawil Witzel

Mar THE SKETCHBOOK DIARIES (VOL 3) by James Kochalka

Mar ALAN MOORE'S SNAKES & LADDERS CD

Apr MONKEY VS ROBOT (VOL 2): THE CRYSTAL OF POWER by Kochalka

Apr HAPPY #3: ZIRKUS by Josh Simmons

Apr MADBURGER by Stripburger (distribution)

May TOP SHELF #9: ASKS THE BIG QUESTIONS Ed. by Warnock/Goodin

May ALAN MOORE LITHOGRAPH by José Villarrubia

May 4th Printing of GOOD-BYE, CHUNKY RICE by Craig Thompson

May APE POSTER by Craig Thompson

May ALAN MOORE: PORTRAIT OF AN EXTRAORDINARY GENTLEMAN

Edited/Published by Gary Spencer Millidge & Smokey Man (distribution)

Jun THE MASTERPLAN by Scott Mills

Jun 2nd Printing of SKETCHBOOK DIARIES (VOL 1) by James Kochalka

Jul BLANKETS by Craig Thompson

Jul BLANKETS (Hardcover) by Craig Thompson

Jul UNLIKELY by Jeffrey Brown

Aug COMIC BOOK ARTIST (VOL 2) #1 Edited by Jon B. Cooke

Aug SLINGS & ARROWS COMIC GUIDE Edited by Frank Plowright (Plowright)

Sep THE BAREFOOT SERPENT by Scott Morse

Sep THE BAREFOOT SERPENT (Hardcover) by Scott Morse

Sep WORLD WAR 3 ILLUSTRATED #34: TAKING LIBERTIES (AN-Magazine)

Sep MoCCA POSTER by Craig Thompson

Oct 2nd Printing of BLANKETS by Craig Thompson

Oct BOP! [MORE BOX OFFICE POISON] by Alex Robinson

Oct COMIC BOOK ARTIST (VOL 2) #2 Edited by Jon B. Cooke

Nov SCHUCK by Rick Smith

Nov TROUBLETOWN: AXIS OF TROUBLE Lloyd Dangle (distribution)



2002

Jan HAPPY #1 by Josh Simmons

Jan 3rd Printing of GOOD-BYE, CHUNKY RICE by Craig Thompson

Feb BUGHOUSE (VOL 2): BAJA by Steve Lafler

Mar THE SKETCHBOOK DIARIES (VOL 2) by James Kochalka

Mar ALAN MOORE'S ANGEL PASSAGE CD

Apr STRIPBUREK by Stripburger (distribution)

May TRENCHES by Scott Mills

Jun PINKY & STINKY by James Kochalka

Jun DOUBLECROSS by Tony Consiglio

Jun XXX STRRIPBURGER by Stripburger

Jun ALEC (VOL 4): AFTER THE SNOOTER by Eddie Campbell

Jul THE 'K' CHRONICLES by Keith Knight

Jul HAPPY #2: ELEPHANT, BUNNY & CHICKEN by Josh Simmons

Jul EGOMANIA #1 by Eddie Campbell

Aug THREE FINGERS by Rich Koslowski

Aug LAND OF O by Michael Slack (distribution)

Sep CREATURE TECH by Doug TenNapel

Sep 2nd Printing of BOX OFFICE POISON by Alex Robinson

Oct HAPPY END by Actus (HC, AN)

Oct 2nd Printing of MONKEY VS. ROBOT (VOL 1) by James Kochalka

Oct 2nd printing of BOX OFFICE POISON by Alex Robinson

Nov PINKY & STINKY MOCCA POSTER by Brett Warnock & James Kochalka

Dec WHERE HATS GO by Kurt Wolfgang



2001

Jan BOY IN MY POCKET (BILLY DOGMA) by Dean Haspiel

Feb SPEECHLESS by Peter Kuper

Feb CIRKUS NEW ORLEANS by Josh Simmons

Mar HEY, MISTER #8: DIAL "M" FOR MISTER by Pete Sickman-Garner

Mar THE SKETCHBOOK DIARIES (VOL 1) by Kochalka

Mar ALEC (VOL 3): HOW TO BE AN ARTIST by Eddie Campbell

Apr BOX OFFICE POISON by Alex Robinson

May A COMPLETE LOWLIFE by Ed Brubaker

Jun THE SOAP LADY by Renée French

Jul PISTOLWHIP (VOL 1) by Matt Kindt & Jason Hall

Jul MEPHISTO by Matt Kindt & Jason Hall

Jul BETTER LUCK NEXT CENTURY by Dylan Horrocks

Jul SMUDGES by P. Shaw

Jul BERN & EDWINA by Pat Moriarity and David Greenburger

Aug THE ACTUS BOX: FIVE GRAPHIC NOVELLAS by Actus

Aug ALEC (VOL 2): THREE PIECE SUIT by Eddie Campbell

Sep SNAKES & LADDERS by Alan Moore & Eddie Campbell

Oct MINIBURGER by Stripburger

Nov ALAN MOORE'S THE HIGHBURY WORKING

Nov ABE: WRONG FOR ALL THE RIGHT REASONS by Glenn Dakin

Nov CICADA: A BROKEN FENDER BOOK by Josué Menjivar

Dec HEY, MISTER (VOL 3): THE FALL COLLECTION by Pete Sickman-Garner



2000

Feb DEAR JULIA, by Brian Biggs

Feb ALEC (VOL 1): THE KING CANUTE CROWD by Eddie Campbell

Mar HEY, MISTER #6: THE TROUBLE W/JESUS by Pete Sickman-Garner

May BUGHOUSE (VOL 1) by Steve Lafler

Jul FLIPPER (VOL 1) & FLIPPER (VOL 2) by Actus Tragicus

Aug MONKEY VS. ROBOT (VOL 1) by James Kochalka

Aug DOOT DOOT GARDEN by Craig Thompson

Sep HEY, MISTER #7: EYES ON THE PRIZE by Pete Sickman-Garner

Sep BIBLE DOODLES by Craig Thompson

Nov BIG CLAY POT by Scott Mills

Dec HUTCH OWEN (VOL 1): THE COLLECTED by Tom Hart



1999

Jan TALES OF THE GREAT UNSPOKEN by Aaron Augenblick (distribution)

Apr HEY, MISTER (VOL 2): THE CELEBRITY ROAST by Pete Sickman-Garner

May DAYDREAM LULLABIES (BILLY DOGMA) by Dean Haspiel

Jun THE BIRTH CAUL by Alan Moore & Eddie Campbell

Jul THE PERFECT PLANET & OTHER STORIES by James Kochalka

Aug HEY, MISTER #5: BEHIND THE GREEN DOOR by Pete Sickman-Garner

Sep NEW HAT STORIES: BANKS/EUBANKS by Tom Hart

Oct GOOD-BYE, CHUNKY RICE by Craig Thompson

Nov FROM HELL by Alan Moore & Eddie Campbell

Dec TOP SHELF #8: UNDER THE BIG TOP by Brett Warnock



1998

Feb TOP SHELF #6 Edited by Brett Warnock

Apr HEY, MISTER (VOL 1): AFTER SCHOOL SPECIAL by Pete Sickman-Garner

May BROKEN FENDER (VOL 2) #2 by Josué Menjivar

Jun CLOCK! #3 by Paul Sharar

Jun KEYHOLE #5 by Dean Haspiel & Josh Neufeld

Jul MAGIC BOY & GIRLFRIEND by James Kochalka

Aug HEY, MISTER #3 by Pete Sickman-Garner

Sep JACK'S LUCK RUNS OUT by Jason Little (distribution)

Nov TOP SHELF #7: ON PARADE Edited by Brett Warnock

Dec HEY, MISTER #4 by Pete Sickman-Garner

Dec KEYHOLE #6 by Dean Haspiel & Josh Neufeld



1997

Mar EYE SPY by Charise Mericle

Jun THE STAROS REPORT -- 1997 by Chris Staros

Jun PARANOIA by Kelly Hansen

Jul CRUST by Rick Pinchera

Aug TOP SHELF #5 Edited by Brett Warnock

Sep Brett Warnock & Chris Staros form Top Shelf Productions, Inc. (9/18/97)

Nov BROKEN FENDER (VOL 2) #1 by Josue; Menjivar

1996

Mar I'M TOTALLY HELPLESS! by Wayne Shellabarger

Apr HURT ME! by Ulana Zahajkewycz

Apr TOP SHELF #2 Edited by Brett Warnock

Jul TOP SHELF #3 Edited by Brett Warnock

Aug GONE WALKABOUT by Steven Lewis Ryan

Sep MICROS by Paul Anson

Sep TOP SHELF #4 Edited by Brett Warnock



1995

Dec THE STAROS REPORT -- 1996 by Chris Staros

Dec TOP SHELF #1 Edited by Brett Warnock

Dec DADDY DONNIE by Daniel-Patrick Evarts

Dec COLOR RIGHT by Charise Mericle
1994

Mar THE STAROS REPORT #1 by Chris Staros (Chris' debut!)

Jun STREAM OF (UN)CONSCIOUSNESS by Brett Warnock (Brett's debut!)

Oct THE STAROS REPORT #2 by Chris Staros