stumptown
November 2, 2006
Well this year's Stumptown Comics Fest has come and gone, and while there were some issues with filling seats (so to speak), it was yet another fun show in the ever growing Portland Comics scene. Huge props to festival organizer Indigo Kelleigh once again, for another fine effort. I'll certainly be back next year.
I had a house full of guests in town this year for Stumptown, and a good time was had by all. My great friend Rob (Robot Publishing) Goodin and his wife Georgine stayed with us for four nights. In addition to the comics thing, we had some great meals during their stay, including dinner at the new Southern style restaurant in our 'hood called Screen Door (recommended drink …Â the Rhett Butler... Maker's Mark, ginger ale, and actual muddled ginger), breakfast at the all-mighty Cadillac Cafe, and of course, dinner at Taqueria Nueve.
I've know Rob for a decade now, and it was wonderful to have him and Georgine crash at Casa De Warnock for a long weekend.
On Thursday night, i hosted a small cocktail party of mostly Top Shelfers. The drink of the night was jalapeno margaritas. Here's a pic of myself and The Kid, as snapped that night by webmaster Nate Beaty.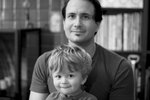 Mr. CBLDF himself, Charles Brownstein also crashed here for a couple nights, and although he wasn't around the house much, it was nice to see Charles NOT working for a change, seeing old friends, and catching up on a little deserved R&R. (Plug for the Comic Book Legal Defense Fund. If you're not a member, you should be. Learn more here.)
At the show itself we had Aaron Renier, Liz Prince, Lille Carre, and Jeremy Tinder all in from out of town. (These four, along with Kaz, were the "away team" in Ezra Claytan Daniels' epic Comix Apocalypse …Â see the Flicker photo site listed below to catch some great pics of this.) Craig Thompson and Brett Weldele hung out at the table for a while, too, singing books and what have you.
Craig signing a book for Scott McCloud. (Photo by Joshin Yamada.)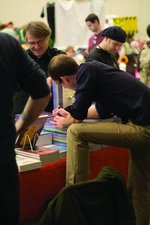 (Check out Brett's kick-ass new poster for this year's Grindhouse Film Fest, taking place this very weekend.)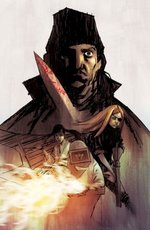 Also on hand were three generations of Top Shelf interns: Carlos Hernandez Fisher, Chris Ross, and (current intern) Jacquelene Cohen.
I had the esteemed pleasure to sit on a panel about comics anthologies with some fine industry folks, including Dylan (Sparkplug) Williams, Diana (Dark Horse) Schutz, Shannon (Pet Noir) O'Leary, Greg (Papercutter) Means, and Kazu (Flight) Kibuishi. It was quite fun. In the end, we all agreed that Kazu's incredible Flight anthology is truly an anomaly, in that it is quite possibly the only profitable anthology in the history of English-language comics.
The Top Shelf / ONI Press party, Comic Tonic was a raging success. Heaps of thanks to everyone who helped, the Oni guys for co-sponsoring, Corey Lewis for the awesome poster, Pinball Publishing for printing it, Jason (Floating World) Leivian for spinning records, and especially Jacq for making it all happen in the first place.
The crazy weekend ended with some karaoke at Chopsticks. The highlight … Zack Soto's truly inspired rendition of Gloria Gaynor's "I Will Survive." It was so fucking awesome i just had to get up and dance my ass off to that one!
•Â Here's some Flickr photo sets of Stumptown, including some amazing photography by Renaissance Man Joshin Yamada.
• Another fun set by Nate Beaty
•Â And here's a few pics by Chris Ross.
Lilli Carre, Chris Ross, and Liz Prince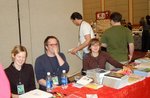 Brett and Carlos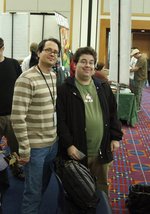 Intern Jacq by the pile of Owly plushies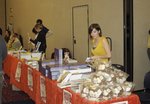 Liz, Jeremy, Aaron, Lilli, and Kaz waiting for the Comix Apocalypse to begin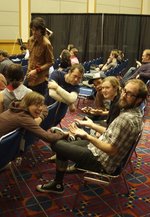 •Â My only problem with comics is that there's just too much great stuff coming out anymore, that i simply don't think i'll ever be able to read them all. Next installment of the blog, i'll list the stuff i came home with from both SPX and Stumptown. Tons and tons of fabulous stuff, but hands down my favorite discoveries are by two girls working primarily in animation: I picked up Jen Wang's Touchfood, easily my favorite mini of the last several years.. It's truly an astoundingly beautiful piece of work. And my favorite t-shirt in as many years was given to my by the delightfully talented Vera Brosgol.
MEANWHILE:
•Â Renee French has been announced as a guest at San Diego ComiCon 2007.
•Â Here's some info on David Yurkovich's Bill Mantlo tribute book.
•Â Kochalka gets more props in Spin!
From Spin magazine, here's "The Spin Mix: Songs you need to download now!"
They describe Britney's Silver Can as "An indie rock heart-pounder that envisions Brit dejectedly playing Game Boy in bed and saying Justin's name more than 100 times."
Oh, and here's his cover for the next issue of SuperF*ckers!!