update city
September 18, 2006
Jesus mama, it's been over a week since i blogged. Sadly, it looks like my dream of writing lengthy, thought-provoking essays on comics business and culture …Â ala the likes of Steven Grant or Tom Spurgeon …Â is really just a pipe dream. I have no idea how these guys have the time to write such insightful and considered work, but huge props to them and their ilk.
Oh well, i can still point the magic wand towards some really cool stuff written by other people, and i can still post fabulous art from various sources, a lot of which you might not see anywhere else! So yeah, put that in your blog and smoke it!
•Â From Cambodia, Mr. Comics International John Weeks writes:
"Hi Brett!
Happy birthday! And there's presents for all! After six months a surprise package from Top Shelf arrived via seamail! (Maybe someone was busy reading the books before it got to us?)
Pic 01:
Artist Soeung Makara (holding Owly), Lim Santepheap, Sim Sisuvathara, John Weeks.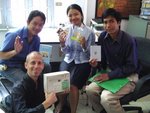 Pic 02: Superfast sketch artist Moeu Diyadaravuth and Photoshop whiz Try Samphos check out the goodies.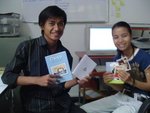 Carnet de voyage went to Khmer filmmaker Rithy Panh, and the other books are circulating pretty fast. Interesting to note the different reactions. For most the English is tricky, that doesn't stop 'em.
Proper site to follow in another few weeks. You're welcome to repost the photos. We are busting a hump on an anticorruption/teen romance comic, due mid-November! Artist is Nhek Sophaleap."
•
Meanwhile, after raving about Tim Leong's smashing Comic Foundry web magazine, i hit their archives and checked out the few issues i had yet to read, to find not one but two Top Shelf cartoonists interviewed in their pages. Who hoo!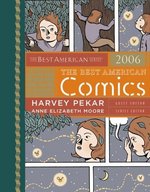 (Lilli's beautiful cover for the forthcoming Best American Comics anthology.)
Lilli Carre' plays 10 Questions with Tim, and Brett Weldele (artist of The Surrogates) talks with Andrew Avery about his gorgeous work on the prequel graphic novel series to Richard (Donnie Darko) Kelley's new film, Southland Tales.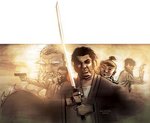 (One of Brett's insanely fucking cool freelance pieces … this one for the Portland Grindhouse Film Fest.)
• Heaps of praise to Alex Robinson and James Kochalka for their recent victories at the Harveys!
•Â Jason at Floating World Comics here in Portland turned me onto an incredible Spanish magazine called Rojo, which fans of the old school Fort Thunder crew, or the newer Buenaventura gang, would go apeshit for. It's essentially a collective of work by artists in various mediums, but it shares a sensibility for that loose new school of hipster art. The magazines are pretty pricey at $30, and hard to find as well, but oh my, what amazing work is to be had therein.
•Â Finally, if comics are starting to bore you right now, go read this interesting article in Market Watch, called "Ten big news stories you aren't hearing
Traditional media ignore or downplay significant events." It's great to see this in a decidedly capitalistic publication.