mad mad mad lost girls
September 1, 2006
After much delay, Lost Girls FINALLY landed in stores yesterday, and today we just placed a RUSH order on the THIRD printing!! That's because we're all but wiped out of the second printing. At one point yesterday, i found it listed at #27 on the amazon.com rankings. Do, no doubt in part, from props in Wired, Village Voice, and USA Today.
One day after the book hit stands.
O.k. Enough glee.
Aaron Renier wrapped up his work on the poster for this year's Stumptown Comics Fest, here in Portland in late October. (With a sublime color palette by Alec Longstreth.)
This is one to frame. I can't believe how cool this is. Great work, Aaron.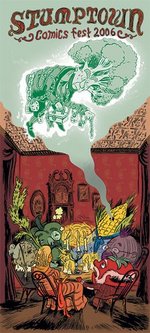 Also, more Ulana