comic foundary
August 26, 2006
So i bumped into Tim Leong and Christopher Butcher on the floor in San Diego, and Tim handed me a couple of printed promotional magazine editions of his excellent website, Comic Foundry.
Tim also designed these "simple" throwaway promotional efforts, and the results are two of my favorite printed mags in comics over the last year plus. (What with our own lack of a new CBA, or the absence of new issues of Robert Young's fine Comics Interpreter.)
The contents of these two issues of Comic Foundry had so much to offer, including features on: James Jean; R. Kikuo Johnson & Pablo Rivera; Ex Machina art team Tony Harris, Tom Feister, and JD Mettler; Kevin Huizenga; Arthur Suydam; Joe Quesada; and Japanese Import publisher Vertical. Plus crazy shit like an interview with a plastic surgeon on how realistic the body types of super-heroes may or may not be.
Thus inspired, i headed to their website, only to find the "cover" feature on Lost Girls. This cover rocks! Brilliant, in fact!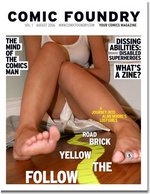 Do check this out.
And meanwhile, for your pleasure, more Ulana Zahajkewycz.