Coming in April: COSMIC CADETS!
January 20, 2023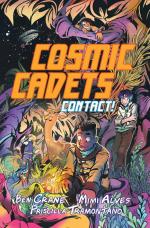 After they're stranded on a strange alien planet, they'll have to do what their parents couldn't: explore the surface, discover the secrets of the terrifying race that lives there, and try to prevent a full-scale war!

Working together, these Cadets will discover that sometimes being a hero means learning to see new perspectives, and sometimes bravery means admitting when you're wrong.
In their debut graphic novel, Ben Crane and Mimi Alves serve up a heartfelt, thrilling, and vividly colorful and escapade about kids taking the lead, for middle-grade readers who are ready to seek out new life of their own!
Cosmic Cadets (Book One): Contact! by Ben Crane & Mimi Alves
ISBN 978-1-60309-520-4 | Diamond: DEC221456 | $14.99 (US) | 160 pages
Full-color softcover graphic novel
6" x 9" | For ages 9 and up
Coming April 25th!
Pre-order from your local comic shop | elsewhere