One Book, One San Diego selects THEY CALLED US ENEMY!
August 31, 2020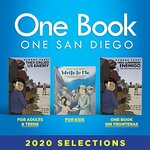 Each year, One Book, One San Diego features one book for adults, one for young adults, one for kids and one for Spanish language readers. This year, the program received more than 400 nominations. They Called Us Enemy was the selection for three categories.
"I tell the story of the choices my parents made to get us through that awful time with hope, love, compassion, and with a deep understanding of what it means to be an American. I look forward to sharing my family's story with you," says Takei.
On September 22, One Book, One San Diego will host a free virtual event featuring an interview with Takei. Event details and registration are available at www.kpbs.org/onebook. In addition to the September virtual presentation, George Takei and his co-creators will speak later in the fall to San Diego students about the lessons of his story for the next generation.