Jeff Lemire's THE UNDERWATER WELDER Optioned for Film
March 3, 2017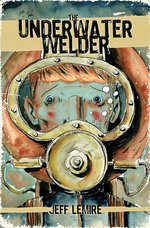 ABOUT IDW
IDW Media Holdings, Inc. (OTCQX: IDWM) is a fully integrated media company, which includes publishing, games, entertainment, and the San Diego Comic Art Gallery.
IDW Publishing's comic book and graphic novel catalog includes some of the world's most popular entertainment brands, including Transformers, My Little Pony, Star Trek, Teenage Mutant Ninja Turtles, Ghostbusters, and Disney's classic characters. At IDW's core is its commitment to creator-owned comics including 30 Days of Night, Locke & Key, Wormwood, Ragnarök, V-Wars, and Archangel by bestselling sci-fi author William Gibson.
IDW Publishing is also home to the acclaimed and award-winning imprints; Top Shelf, The Library of American Comics, Yoe! Books, and Artist Editions, showcasing the greatest original art ever published in American comic books.
IDW Games' diverse line-up includes the international phenomenon Machi Koro, as well as hit licensed games such as X-Files, Back to the Future, The Godfather, and TMNT.
IDW Entertainment serves as the worldwide distributor of Wynonna Earp airing on the Syfy Channel in the U.S. and is producing BBC America's Dirk Gently, based on the best-seller by Douglas Adams starring Elijah Wood and Sam Barnett.
About Waypoint Entertainment
Waypoint Entertainment is a film and television development, production, and finance company with a slate that includes: Scott Cooper's Hostiles starring Christian Bale and Rosamund Pike; Martin Zandvliet's The Outsider starring Jared Leto; Shane Black's detective thriller The Nice Guys starring Russell Crowe and Ryan Gosling; Woody Harrelson's Lost in London starring Harrelson, Owen Wilson, and Willie Nelson; and Terrence Malick's Song to Song starring Ryan Gosling Michael Fassbender, Natalie Portman, Cate Blanchett, and Rooney Mara.
About Anonymous Content
Founded in 1999 by Managing Partner Steve Golin, Anonymous Content is a leading management and Film, TV and Commercial production company. Anonymous Content's clients have been recognized with Academy Awards®, Emmys®, Golden Globes®, Tony Awards®, Pulitzer Prizes® and other prestigious awards. The company's award-winning Film & TV division boasts many commercially successful and critically-acclaimed works, including BABEL, WINTER'S BONE, BEING JOHN MALKOVICH, ETERNAL SUNSHINE OF THE SPOTLESS MIND, 50 FIRST DATES, , THE REVENANT and Best Picture Academy Award winning SPOTLIGHT. The company's TV slate includes "True Detective" (HBO), "The Knick" (Cinemax), "Mr. Robot" (USA Network), "and "Berlin Station" (EPIX), as well as upcoming titles "13 Reasons Why" (Netflix), "The Alienist" (TNT), and "Maniac" (Netflix). Through its Commercial work, Anonymous Content is also the driving creative force behind countless top brands, including Prada, Nike and Coke. In 2016, Anonymous Content received a substantial minority investment from Emerson Collective, the organization founded and run by Laurene Powell Jobs, to allow the firm to expand its production offerings in socially-relevant content aimed at inspiring change.