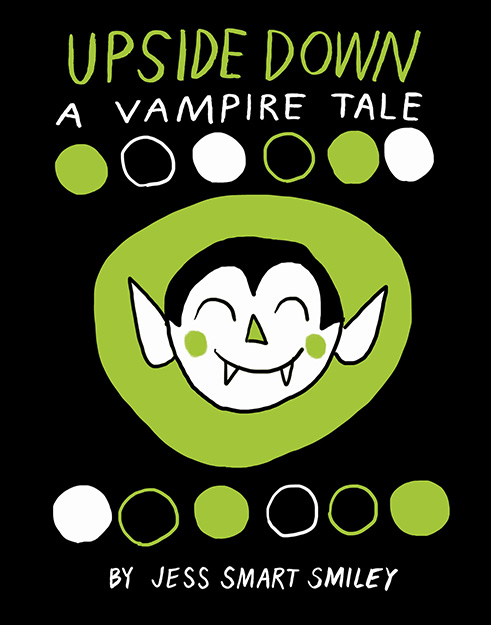 A TOP SHELF KIDS CLUB BOOK!
"I really enjoyed Upside Down! It has a goofiness that reminds me of Joann Sfar, and the simplicity of its art is like a sophisticated version of Ed Emberley." — Gene Luen Yang, author of American Born Chinese and Boxers & Saints
"The perfect balance between silliness, simplicity, and strange." — Ray Friesen, author of Pirate Penguin vs. Ninja Chicken
"It's got charm, and that's possibly the most important thing." — Tom Gauld, author of Goliath
"[An] irreverent look at vampire and witch lore, with humorous dialogue and a quirky, action-filled plot." —School Library Journal
"Charming and a whole lot of fun." — Graphic Novel Reporter
"Bizarre, fun, outlandish and very original... The book recalls Roald Dahl in its ambition and ability to speak to kids without being condescending." — Rue Morgue
"For younger readers (and parents) in search of some non-cavity-inducing fun, Upside Down is a sweet, goofy treat to share." — Smithsonian BookDragon
"Trick or treat? Jess Smart Smiley's Upside Down is definitely a treat." — Comic Book Resources' Robot 6
Harold is a friendly young vampire who lives in a piano and LOVES candy. Pretty normal, huh? ...until he sets out for a dentist appointment that turns into the biggest adventure of his life! Now he'll face bats, witches, magic spells, vampire frogs, mad scientists, and so much more! It's a wild magical romp for all ages, perfect for Halloween or any time at all.



Upside Down is a spooky fun tale for all-ages and tweens, colored in black, white and Halloween green! -- a 144-page 2-color softcover graphic novel with french flaps, 6" x 9"
Reviews
---
Related Titles