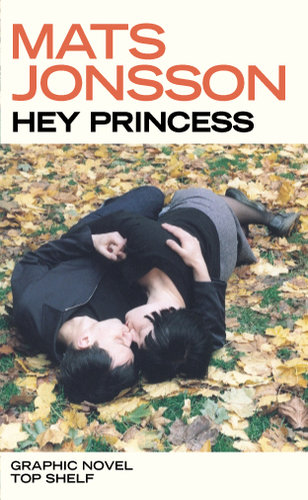 THE SWEDISH INVASION!
"Funny, relatable, honest. What's not to love?" --Whitney Matheson, USA Today
"The brilliance of Mats Jonsson's comics is knowing just how funny some of the most pathetic moments of adolescence can be, and not being afraid to share those, no matter how ridiculous it makes him look." --Jeffrey Brown, author of Clumsy and Funny Misshapen Body
"Hey Princess is an excruciatingly honest autobiographical story, full of unrequited love, jealousy, envy and ambition. The world has not seen anything like this since the heyday of Peepshow by Joe Matt." --Fredrik Strömberg, author of The Comics Go to Hell and Swedish Comics History
"Reading Hey Princess makes you question if 'love' is worth all the aggravation, humiliation and pain. And the answer is yes, because otherwise we wouldn't have books like these." --Martin Kellerman, author of Rocky
Hey Princess is a story about moving to the big city and being young, insecure and desperate to feel as hip as everyone else.
Originally published in Sweden, Hey Princess received praise from both critics and readers for its incisive and entertaining account of indie pop-listening young people in the mid-1990s.
Hey Princess takes its place in the proud tradition of self-deprecating, confessional, sex-obsessed and guilt-ridden autobiographical comics, but stakes out a unique identity by virtue of its Nordic setting and biting social criticism. … This seminal book in the thriving Swedish indie comics scene is a graphic novel packaged in the style of a traditional pulp novel. -- A 472-Page Graphic Novel packaged in the style of a traditional pulp novel, 4.25" x 7", Diamond: FEB10-1094
Reviews