Duane Murray
Duane Murray has been writing, producing and acting professionally since graduating from York University's Acting Conservatory in 1998. He has script consulted on projects for studios including Warner Brothers, Dreamworks, HBO and Netflix. He is currently developing TV adaptations of international bestselling novels The Last Rituals and The Mythago Wood. Duane is also an actor appearing in over 65 film and TV productions, including the Academy Award-winning Spotlight. Duane's latest feature film Red Rover, which he both co-wrote and produced, was recently released in North America. He is an alumnus of both the prestigious TIFF Studio and National Screen Institute.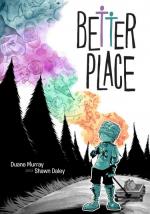 by Duane Murray and Shawn Daley
This sidekick misses his superhero... After hearing that his grandfather has gone to a "better place", a boy sets off on a grand adventure to find him, dressed as his favourite comic book character.
Dylan just moved to a new house, with no friends, and a mother who doesn't have time for him. …